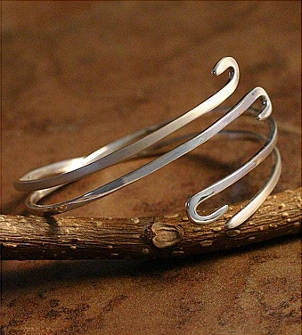 Wearing jewelry is a great way to keep up with evolving fashion trends. Bracelets are fabulous pieces of jewelry because it's so easy to express your personal style when you have plenty of bracelets to mix and match with your fashions. When the clink-clink of an armful of fashion bracelets reminds you that, really, you need to buy more arm candy, you'll find many, many styles. This bracelet buying guide offers tips for buying the fashion bracelets and designer jewelry you'll love.
Buying Bracelets:

Must have: Every woman needs a nice set of two or three gold bangles in her bracelets wardrobe. Shiny, versatile and elegant at the same time, gold bangles complement fine clothes and enhance casual fashions. Collect extra gold and silver bangles and, over time, you'll have enough to mix and match to suit your mood.

Special occasions: Consider investing in a spectacular bracelet to wear for special occasions. The style will depend on your preference for your other fine jewelry but will likely be diamond or pearl jewelry, maybe both. Diamond bracelets catch the light every time you move your arm and match well with diamond earrings. A cultured pearl bracelet completes a suite of pearl jewelry or is a fitting alternative to the pearl strand necklace.

Gifts: The diamond tennis bracelet makes a wonderful jewelry gift; it is beautiful and always fashionable. Like the fine gold chain, a diamond tennis bracelet can be worn with almost any clothing style. The design is simple -- just a row of diamonds set in gold or platinum links -- yet there are many variations available. Birthstone bracelets and sterling silver bracelets with engraved heart tags also make fabulous gifts.

Old and new: Men's bracelets enhance a collection of watches, necklaces and cuff links. For classic style, choose a men's yellow gold bracelet or sterling silver bracelet in one of the traditional chain styles. A snappy dresser will also want a men's bracelet in one of the "new" jewelry metals of titanium, tungsten and stainless steel. These materials, also known as alternative metals, are becoming the new standard in men's jewelry.

Classic chains for bracelets: Link bracelets feature the same attractive chain patterns used in necklaces. There are many chain patterns available, but two in particular are common in men's jewelry: the curb chain and the Figaro chain. Curb chains have round or oval links with beveled sides and lie flat. Figaro chains have a pattern of three short links followed by one long link.

Gifts: For the man who includes jewelry in his fashion, a men's bracelet is stylish gift. Personalize the gift by choosing an ID tag bracelet for him and having the tag engraved. When the occasion calls for more glamour, present him with one of the many attractive diamond bracelets designed for men.
Tips from Overstock.com:

Do you know a young woman who is celebrating a special event? A Sweet 16 birthday, graduation or any other celebration calls for a gift of keepsake jewelry, and a charm bracelet made just for her will delight any gal. The classic charm bracelet features a chain with a fringe of dangling charms. For a gift, choose a gold or silver bracelet and one or two charms to get her started. Over time, she'll add more charms. You might consider enlisting the help of friends and family members when creating the bracelet. Have children, parents, siblings or friends choose extra charms for the gift. Just remember to leave enough room for the recipient to add a few charms of her own.

Make bracelets your preferred fashion jewelry. Everyone needs fine jewelry, but sometimes a bold and bright bangle adds the perfect finishing touch to your outfit. Gemstones add brilliant color to jewelry, and bracelets feature almost every stone imaginable. For fun and casual fashion accessories, choose some bracelets with crystals and glass beads of various hues. Bracelets made of fabric, wood and copper resemble traditional folk arts and are often handmade items.

Buy Bracelets
Back to Guides Directory