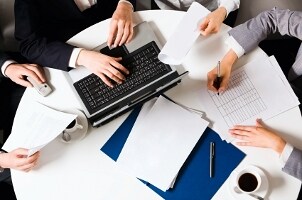 Getting the most out of your computer means having the right software for the things you like to do. The right software tools can also help you get organized and learn new skills. Consider these software categories that can help you get things done or have some fun.
Software for Work and Play:

Art and imaging software: Art and imaging software allows you to manipulate and create images, animations or digital photos. Photo software can help you organizes family photos, edit them (remove red-eye) and organize slide shows. Clip art software provides a collection of images and icons for you to use in creative projects. Drawing programs turn your cursor into a paintbrush to produce custom digital art. Home design software allows you to model and layout architectural designs and landscapes.

Business and productivity software: Business and productivity software is designed to help you organize and run your business more efficiently. Some programs will help you chart a course for your enterprise and track your progress. Business management software packages can help you with invoices, mailing lists, customer databases, legal forms and other office tasks.

Children's software: Software for kids is usually heavy on the games. Very often, children's computer games feature their favorite cartoon characters, creating games that make learning numbers and letters fun. For the grade-school students, children's software is more interactive, engaging multiple players and building social skills.

Educational and instructional software: Educational software packages exist for just about any age and every subject. Language translation and language learning software is a great way to learn another language. Whether you need science educational software to help get you through college or guitar software so you can start a rock band, instructional software can speed up your learning curve.

Personal finance software: Run your household finances with business-like efficiency using personal finance software. Organize records, track investments or draft common legal documents. Your home is like a small business in many ways, and the right software can make managing your finances quick and accurate.

Programming and web development software: Not everyone needs professional-grade programming and web development software. But if you're interested in creating your own website, there are lots of different programs out there to help you design and manage your site. Some programs make it as easy as selecting an existing page template and dragging and dropping photos and color schemes. With a couple clicks, you'll be online.

Buy Software
Back to Guides Directory