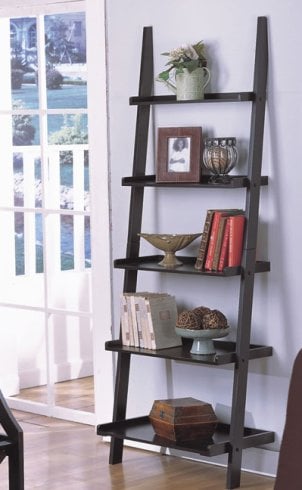 Whether you want a place to store books or simply display collectibles, bookshelves are the perfect solution. A bookshelf is a versatile type of furniture that goes with any room or decorating style. Aside from using them for books, use the space for storage by placing baskets for magazines, games, or videos in the living room. Place bookshelves in the bathroom to store extra towels and bath items. Take this list of bookshelf essentials into account before you purchase a set of shelves.
Essentials in Bookshelves:

Style: Bookshelves come in plenty of styles, so it's easy to find one that will fit with your current living room decor. If you have a lot of books or collectibles to display, a sturdy wall-mounted bookcase style will keep your belongings secure. Tower shelves are ideal for elevated ceilings. For small spaces, a corner bookshelf will offer storage without taking up much floor space. Traditional styles feature three to five shelves in a simple rectangular-shaped unit. Built-in bookshelves are always a classy and stylish pick for a living room, den or office. If you have a large, undefined space, look for a bookshelf that is open on both sides and use it as a room divider. For more information about bookshelf styles, read our bookshelves buying guide.

Size: Size is an important factor when you're searching for the right bookshelf. Once you decide where the shelves are going to sit, you'll need to measure the exact space to get an idea of what size of furniture you should be looking for. A narrow bookcase that features three to four shelves is ideal for a bathroom but may be too small for a living room or office. If you are using the shelves to store books, keep in mind the types of books you have. Small paperback books require less space than hardbacks or large coffee-table books. Check the product description to ensure you are able to adjust placement of the shelves on your living room furniture to accommodate whatever you will store or display on them.

Material: Bookshelves come in many materials, ranging from inexpensive medium-density fiberboard (commonly abbreviated as MDF) to more expensive glass or solid wood materials. Solid wood materials come in hardwood or softwood. Hardwood benefits include scratch-resistance and sturdiness, while softwood bookshelves are more delicate. One of the most affordable bookshelf material options is particle board, which is comprised of glued wooden chips. MDF is also made of fibers and wooden chips to create heavy but natural-looking shelves.

Finish: For a cohesive feeling, choose a finish that complements or matches other wood finishes in the room. A black or espresso finish will feel very contemporary. White or walnut finishes will feel fresh and modern. A cherry finish has a classic, traditional feeling.

Buy Bookshelves
Back to Guides Directory