Black Diamond Buying Guide
by Shawna Edwards
Published July 7, 2014 | Updated July 28, 2015
Black diamonds have become an increasingly popular design element in diamond jewelry. For a long time, fashion preferred the monochromatic look of white diamonds set in white gold. Even though all that silvery sparkle is pretty, fashionistas have been happy to embrace new options now that fancy color and black diamonds have made jewelry more interesting. Yet many people have questions about these dark stones. Are they really diamonds? How do I wear black diamond jewelry? Here are the answers to your questions about black diamonds.
Facts about Black Diamonds: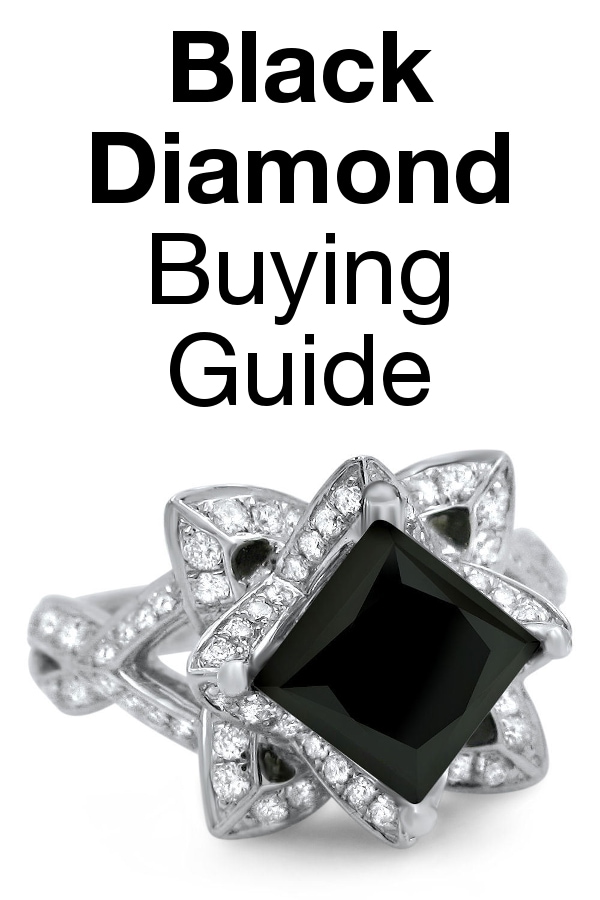 Shop Black Diamond Jewelry ▸
Black Diamonds Are Real Diamonds

Like other fancy-color diamonds -- such as yellow, blue, and pink -- black diamonds are made of carbon, as are the colorless (white) variety. The opaque bort diamonds get their color from graphite inclusions, but these are rarely used in jewelry.

The carbonado diamonds, sometimes just called carbonados, are used in jewelry. They are black or dark grey in color and have a polycrystalline structure. Some scientists believe that carbonados are the debris of meteorites and were not formed in the earth like most diamonds.

Black Diamonds Are Rarer Than Colorless Diamonds

In fact, the carbonado diamonds are only found in Brazil and the Central African Republic. Most of the black diamonds are small, too; larger ones exist, but they fracture more easily than the colorless diamonds.

Many Diamonds Are Treated to Improve Their Color

Although naturally black diamonds exist, most of the stones used in fashion jewelry are light-to-medium grey diamonds that have been treated to enhance their color. The treatment, usually radiation or intense heat, darkens a stone's color, making it appear black to the naked eye. The color of some of the treated diamonds becomes a deep green, which you can see under magnification.

Black Diamond Jewelry Can Be Trendy

The contrast between black and white diamonds is striking, so they are often paired in jewelry design and then set in a white metal, such as white gold or silver. This look is especially popular in black diamond necklaces and rings. When you want some black diamond jewelry for everyday fashion, look for pendants in classic and vintage designs, like hearts, braids, and flowers, or as cute and trendy critters, dragonflies, and initials.

And Can Also Be Classic

When you want a new piece of fine jewelry to wear for special occasions, consider black diamond earrings or a black diamond ring. Black stones provide shine and an air of mystery while white diamonds add a little sparkle to the design. Black diamonds are even appearing in engagement rings and men's wedding bands. If you want to get away from the common black-and-silver look, try a design set in yellow or pink gold. A new look in wedding rings that is catching the eye of the fashion conscious pairs black diamonds with a black gold band.
Indentifying Black Diamonds:
Electronic diamond testers often identify treated black diamonds as moissanites, causing concern to consumers who thought they had black diamonds. This can occur if the tester was designed to separate diamond from moissanite based on electro-conductivity. Moissanite stones are electro-conductive, but natural-color diamonds are not. However, color-treated black diamonds become electro-conductive during the process that enhances their color. As a result, jewelers sometimes mis-identify the color-treated stones.
So how do you determine if a black diamond is a real diamond or a moissanite? Actually, the test that labeled the diamond as a moissanite reveals the gem's true identity. Although diamond testers identify colorless moissanite, they don't take accurate readings of any colored moissanite. Because neither natural-color black diamond nor black moissanite test as moissanite on the electronic testers, when a jeweler tests a stone and the tester indicates "moissanite," the test is a confirmation that the black gem in question is a natural diamond that has been treated to improve its dark color.
At the Tucson Gem Show in February 2012, the testing methods to distinguish black diamond from black moissanite were confirmed during educational sessions with renowned gemologist and author Antoinette Matlins.