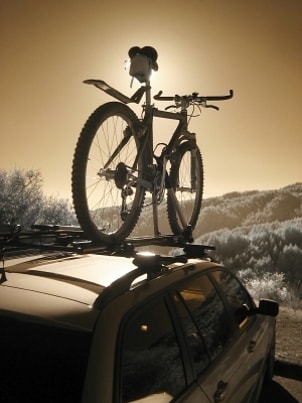 Cycling is a fun hobby and a great way to get in shape, and bike racks are an excellent way to store your bike racks or transport it to your favorite riding locations. Different bike racks are designed for storage and vehicle transport, so this bike rack buying guide is meant to help you decide on the best way to handle your bikes and bike accessories.
Buying a Bike Rack:

Roof racks: Roof racks are convenient for hauling bicycles as well as other sports equipment. Racks attached to the roof of your vehicle are best suited for larger cars and those equipped with built-in base racks. Having your bike rack on the roof means that you'll need to be conscious of how much clearance you have when passing under overpasses, garages and car ports.

Trunk racks: Trunk racks attach to the back end of your vehicle, near the trunk. This style of rack is perfect for smaller vehicles without rails for a roof rack. Trunk racks require cables and locks to be secured. While some trunk racks are limited to a single bicycle, multi-bike racks are also available. These bike racks are easy to attach and detach from your vehicle, so you can remove them quickly if needed. In addition, you can still use your garage or carport when your bikes are loaded on your bike rack because they don't increase your vehicle's profile.

Hitch-mount racks: One of the newest concepts in bike racks is the hitch-mount bike rack. Hitch mount racks attach directly to your vehicle's trailer hitch and are especially handy for SUVs, minivans and other vehicles often equipped with a trailer hitch. Hitch racks can hold multiple bikes without much trouble and are easily adjustable and simple to remove when not in use. The only drawback to these larger bike racks is that they protrude significantly from the rear of your vehicle, making maneuvering in tight places a little trickier.

Pickup racks: Pickup racks are designed specifically for the beds of pickup trucks. It's important to match pickup bike racks with a truck bed big enough to hold them. Pickup racks are easy to install and hold multiple bicycles.

Standing racks: Standing bike racks are stationary, which makes them a great choice when storing your bikes either indoors or outdoors. There are multiple sizes of stationary bike racks, so you can find one to fit the number of bicycles and the space you have available. If you keep your standing rack outside, you'll probably want to lock the bikes to the bicycle rack and the bike rack to a large stationary object.

Wall-mounted hoist racks: A wall-mounted hoist bike rack is the perfect solution for storing your bikes indoors when space is at a premium. Wall-mounted bike racks are secured to the wall of your garage, basement or wherever you have space for your bikes. The bikes are hung vertically by one wheel rim. These bike racks offer no real security, so they're best used inside.

Wall-mounted horizontal racks: Horizontal bike racks don't save as much space as hoist racks, but they do allow bikes to be stored without dangling. The racks, which are securely mounted on a wall, hold bikes in their normal riding position. Horizontal bike racks may include individual locking stations for each bike.

Floor-to-ceiling racks: Floor to ceiling bike racks consist of a tension-mounted pole, which requires no drilling in the installation. Each bicycle hangs on hooks in the bike rack, usually horizontally. A floor to ceiling rack is a great choice if you want to be able to move your rack easily from one location to another.

Buy Bike Racks
Back to Guides Directory