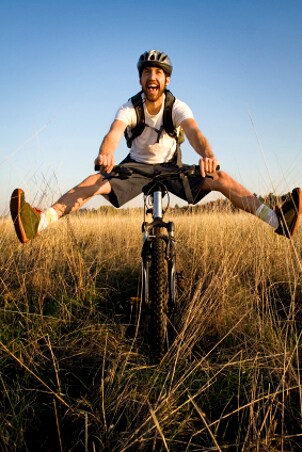 Bicycle helmet safety is the key to minimizing head injuries while cycling, either for recreation or commuting. Some states do not have bicycle helmet laws, although about 150 municipalities nationwide have bike helmet ordinances on the books. Riders and parents living in states with no bike helmet laws must be vigilant to ensure family members are equipped with the proper helmets.
What You Need to Know:

State laws: The District of Columbia and 21 states had bicycle helmet laws at the time of this writing. The states of California and New Mexico require that all bicycle riders 17 years old and younger wear a bike helmet. New Jersey requires children of age 16 and under to have helmets. South Carolina and Vermont's helmet laws cover individuals 15 and under. Ten states require riders 15 and under to wear a helmet. West Virginia's helmet law is for ages 14 and under. Louisiana and Pennsylvania require helmets for children under 11, according to the National Institute for Highway Safety.

Helmet types: Many types of helmets exist: road, commuter, youth, child, toddler, women's, mountain, BMX, chrono and skate. The traditional road and vented commuter helmets are the most common for paved-road and commuter riding. Youth, child and toddler helmets should fit the appropriate age range, and many women's helmets are even designed with a rear pony-tail port. Mountain and BMX versions may have full-face guards, and the chrono and skate models are more aerodynamic.

Standards: Nationwide helmet safety standards are issued periodically by the federal Consumer Product Safety Commission. Standards in helmet construction, chin-strap applications, wearing a helmet, appropriate age guidelines, helmet safety labeling and other features are designed by the CPSC to help states draft bicycle-helmet safety laws.

How to wear a helmet: Bicycle helmets should be worn flat on the head and not titled either forward or backward. The helmet should fit snug but not impair the rider's field of vision. The chin strap should be fastened tightly with the buckle.

Helmet replacement: Bicycle helmets are not lifetime accessories. They must be replaced following a crash. You need to replace the helmet any time it becomes damaged or if the chin strap no longer secures the helmet firmly. Any replacement helmet should have a CPSC label that denotes the equipment has met federal safety standards.

Warning: According to the Bicycle Helmet Safety Institute, the average bicyclist killed on U.S. roads is a male over the age of 16 who was not wearing a helmet. Riders who are not wearing a helmet are 14 times more likely to die in a crash than helmeted individuals. More than 60 percent of all bicycle deaths are due to head injuries. Up to 88 percent of all brain injuries can be avoided by wearing a helmet.

View All Cycling
Back to Guides Directory