Bicycle Buying Guide
by Staff Writer
Bikes are as varied as the terrain you ride them on, and choosing the right bicycles can be a daunting task. Our bicycle buying guide will help you learn some cycling basics and the different bikes that are available for you to choose from.
Buying a Bike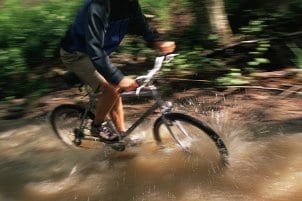 Shop Bicycles ▸
Mountain bikes

Mountain bikes are characterized by wide tires, built-in suspension and straight handlebars. The gearing on a mountain bike is also designed to tackle the constant changes in slope and terrain. Higher gears on a bicycle help you apply more torque to the wheels as the incline increases.
Choosing a Mountain Bike
Frame: A lighter bicycle frame is ideal for a mountain bike. Steel is durable, but it makes for a heavier bicycle than aluminum.

Wheels: Most mountain bikes have 26-inch wheels. Some have 29-inch wheels, though mountain bikers debate the benefits of the larger wheel.

Suspension: A front-suspension bike, called a hard-tail, is enough for most moderate mountain bikers. A front-suspension fork will soften the jarring in your arms and shoulders as your bicycle goes over rough terrain. A full-suspension bicycle (front and rear) will make for an even smoother downhill ride, but full suspension can make climbing more difficult.

Sizing: One important measurement of a bicycle is its stand-over height. This is the measurement from the ground to the top tube. You can know what size of mountain bike to look for by measuring your inseam length of your legs and comparing that to the listed stand-over height of each bicycle. Make sure you will have 3 to 5 inches of clearance between the top of your inseam and the top bar of the bicycle frame while standing.

Frame size: Often, bicycle manufacturers don't list the stand-over height but do list the frame size. Bicycle frames are measured from the center of the cranks (pedal assembly) to the top tube. The vertical tube on a most mountain bikes is slanted, not vertical, so, it's not really a reliable measurement to use. You can find your recommended frame size for a mountain bike by multiplying your inseam measurement by 0.59.

Road bikes

Road bikes have lower handlebars, thinner tires and lighter wheels than mountain bikes for smooth rides on pavement. These bicycles are typically geared for easy climbs and descents. Like mountain bikes, a lighter frame is better. The regular wheel size for a road bike is 700 centimeters (29 inches).
Road Bike Sizing
Road bikes are normally measured in centimeters instead of inches, so you will need to convert your inseam length to centimeters by multiplying the inches by 2.54. Stand-over height will be similar to that of mountain bikes. You can also calculate height by multiplying your inseam length by 0.65 to get the recommended frame size.

Comfort bikes

Comfort bikes, also known as cruisers, are made for slow, relaxed riding. Cruisers often have few gears, or are single speed, for traveling flat roads and surfaces. These bicycles are designed to allow you to ride comfortably, with higher handlebars and a wider saddle.
Comfort Bike Sizing
Sizing: Sizing isn't as important with comfort bicycles as it is with mountain or road bikes. You can find the appropriate frame size by multiplying your inseam length by 0.65.

Tires

Bicycle tires are made with different treads for riding on different terrain. Road tires for comfort bikes and road bikes are typically smoother and thinner than mountain bike tires. Off-road bicycles require more traction, so you may find tires with unidirectional treads that must be installed with the tread facing forward.
Comfort Bike Sizing
Basic road bikes or mountain bikes with road tires will help a businessman save money and stay fit. You can be safe and prepared with a bicycle accessory kit that includes a seat-mounted taillight for helping you stay visible to motorists.
Overstock.com has affordable bikes for adults and teenagers, along with many kids' bicycles. We also have bike racks for your car or SUV. Some fit into a trailer hitch socket, while others mount to the trunk or roof. They will hold multiple kids' bikes and larger bikes for those family trips.
Bike racks and storage come in all sorts and sizes. Bike hooks attach to the wall and help conserve floor space. One of our solid steel bike locks will keep your bicycle secure if you have to store it outside.