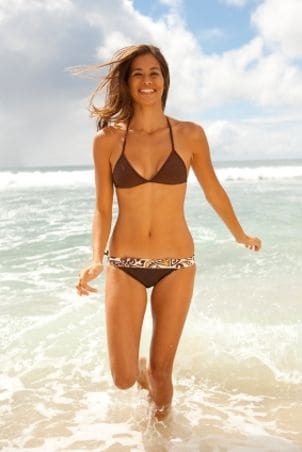 Basking on the beach, you want to look your best in women's swimwear. With so many styles of women's swimwear available, however, it may be hard to find the best swimsuit for your body type. Whether you want to emphasize your best features or disguise problem areas, the right bathing suit for your body can help you look your best on the beach.
Flattering Women's Swimwear:

Show off your curves: The key to looking great in a swimsuit is to flaunt what you have. If you have a curvy or hourglass figure, look for swimwear that flatters your curves and shows off your waist. A one-piece swimsuit cut high on the hips and belted at the waist will emphasize your best assets. If you want to try two-piece women's swimwear, look for a bikini or tankini with a structured bust and high-cut bottoms. Hourglass figures are ideal for retro styles, so embrace your inner beach babe with a high-waist bikini.

Extra support: If you are busty on top with smaller hips, your primary concern is finding women's bathing suits that offers enough coverage and support. Try a halter bikini or one-piece women's swimwear. The halter style will offer you plenty of support and coverage while still showing a little cleavage. A classic tank-style swimsuit is cute and sporty and will offer plenty of support. Try a solid bikini top with patterned bottoms to draw attention and balance your look.

Emphasize and balance: Finding the perfect swimsuit often involves balancing your body shape, hiding problem areas and emphasizing others. If you're small through the bust and shoulders and wider through the hips, mix and match solid bikini bottoms with patterned tops to draw the eye upward. Draping fabric across the stomach can slenderize your midriff, while a plunging neckline can elongate a short body. Lengthen legs by choosing swimwear cut high on the hip, and emphasize a small bust with a bandeau bikini.

Long and lean: If you are tall and thin, you may want to create curves with a belted one-piece swimsuit or a pair of fun skirted bottoms. Long legs and slim hips are ideal for boy shorts and low-rise bikini bottoms. Longer bodies can, however, give the image of showing too much skin in a bikini. If this is a concern, opt for a tankini for a little more coverage. You can also visually break up a longer torso with a chic monokini or a bikini with embellishments at the hips and bust to visually draw your top and bottom together.

Buy Swimwear
Back to Guides Directory