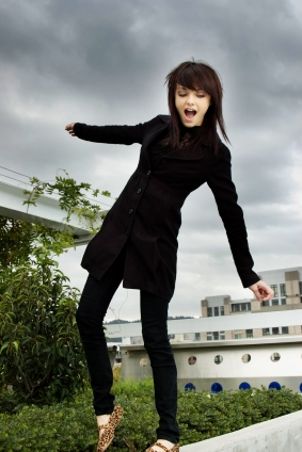 Whether your teen is looking for women's fragrances for back to school or something special to wear to the school dance, you'll want to help her choose a scent that is appropriate for her age. The way you look, feel and even smell can help boost your confidence and your attitude. Choosing the right women's fragrance for a teen can help her feel confident, lively and pretty, too. Not all women's fragrances are appropriate for young women, however, so it is important to choose one that suits her age and personality and won't overwhelm her classmates or prom date.
Best Perfumes for Teens:

Lighthearted: First and foremost, when you're choosing women's fragrances for teens, you want to think light. Light scents are appropriate for teenagers no matter the time of day. Look for women's fragrances that are eau de toilettes or body sprays. These lighter versions of women's fragrances have just the right amount of fragrance without being overpowering.

Bottled up: Shopping for women's fragrances for teens is one time you do want to judge a book by its cover. Generally, perfume bottles with playful shapes, like flowers, hearts or peace signs, contain light, fresh scents that a teen could wear. Even bottles with bright lettering or charm details will likely be filled with women's fragrances that are more fun and fresh rather than deep and romantic.

Candy shop: Look for women's fragrances with candy-inspired scents for your teen to play to her girly side. Think vanilla, caramel, brown sugar and even cotton candy. Women's fragrances with these scents are generally light, sweet and perfect for your teen.

Barely blossoming: Most women's fragrances have a variety of floral notes in them. Some floral scents can be very heavy and dramatic, however, so you want to make sure to look for fragrances that won't be too overwhelming for a teen fragrance. While just about any floral fragrance can be light or heavy, depending on what other notes it's blended with, softer, sheer scents like orange blossom, primrose, hibiscus and tulip will give women's fragrances a lighter effect. On the other hand, rose, jasmine and freesia will usually make a perfume's scent heavier.

Sugary citrus: Citrus notes almost always make women's fragrances lighter, fresher and more energizing. That's why it's a good idea to look for scents with citrus blends for teens. Look for citrus blended with light florals and sweet notes for a scent that is as fresh, young and sweet as your teen girl.

Buy Women's Fragrances
Back to Guides Directory