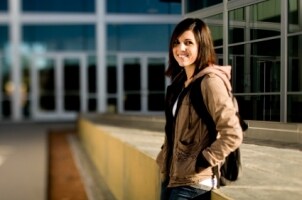 A college wardrobe calls for a coat that is functional whether you're walking to class in the snow or cheering in the bleachers on chilly fall evenings. Most college students are on a budget, so finding versatile outerwear that can take your from fall to spring is important. Before you start shopping for your back-to-school wardrobe, check out these tips for finding the perfect women's coat.
Women's Coats for College:

Consider the climate. When you visit the campus or move into your first dorm or apartment, ask roommates and campus guides about the weather patterns in the area. If you'll be attending college in an area that gets a lot of rain, a women's trench coat will be an essential part of your wardrobe. Look for a coat lined with removable fleece or flannel that can be worn during winter storms and spring showers. For dry areas with frigid temperatures in the winter, look for a down coat or parka with a hood to keep the snow out of your face as you trek to class.

Keep colors in mind. College sporting events are a big deal on most campuses, so if you're ready to exercise extreme team spirit, look for a coat in your school colors that you can wear to games. If you would rather focus on finding a coat that goes with everything in your wardrobe and makes you look pulled together, try a grey peacoat or a black leather jacket that can be worn over jeans and a T-shirt or a dress and tights.

Look for durable, classic styles. Chances are that you won't have a lot of money left over once you've purchased textbooks, computers and other school supplies, so buy coats that won't go out of style quickly. Women's pea coats, especially in neutral colors, are durable and always stylish. A long down-coat paired with boots gives you a fashionable way to stay warm from head to toe. You'll be happy with traditional coats each season you wear them -- and you'll save money that can be spent on pizza and coffee when you're studying all night long.

Buy Women's Coats
Back to Guides Directory