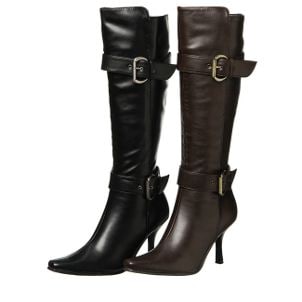 You've probably heard the phrase, "If the boot fits, wear it." But with so many styles of women's boots available, shopping for them can get a little frustrating. Whether the women's boots are for a night on the town with friends, a work-related gathering or just something to show off during dinner with the family, these choices are sure to add elegance and variety to your wardrobe.
Best Women's Boots

Stiletto boots. Well-known for the sexy, skinny heel, stiletto boots are a great way to dress up a skirt and add attractive length to your legs. Stiletto boots are available in either a rounded or pointed toe, and they come in a variety of materials. Slouchy stilettos are another option that works well for the evening, especially paired with a pencil skirt. Black boots are classic, but brown boots also work well for fall or with warmer outfits.

Ankle boots. Ankle boots can be fun and chic, and they are best when paired with long jeans and a dressy top because of their shorter length or with a short skirt. The newest trend in ankle boots is added zippers and buckles. These embellishments will make you stand out. Use them to showcase your individuality.

Cut-out booties. These boots are similar to ankle boots in height but feature straps, cut-out circles or laces as well as a peep-toe design. Pair cut-out booties with either fitted boot-cut or skinny jeans and a fancy top or vest for a pretty evening look.

Knee-high boots. These versatile boots can be worn with a dress, skirt and even over or under your favorite jeans. Knee-high boots come in lots of different colors and materials, including leather. Slouchy knee-high boots also look great with skinny jeans tucked into them, especially suede boots. The style of this type of boot is already playful, so why not take advantage of it and go with a bold color?

Wedge boots. Wedge boots offer a bit of height without the lack of comfort that sometimes comes with stilettos. The boots come in many colors and materials, including leather and suede, and adornments, such as studs and buckles, add interest. Try pairing wedge boots with skinny jeans or a long bohemian skirt.

Riding boots. These boots were made for walking, not just riding, with their flat soles and wider legs. You can find riding boots in glossy vinyl, leather and soft suede, depending on your style. Riding boots look best with skinny jeans or long skirts, but a coordinating knee-length skirt or knit dress would also look nice for the evening.

Buy Women's Boots
Back to Guides Directory