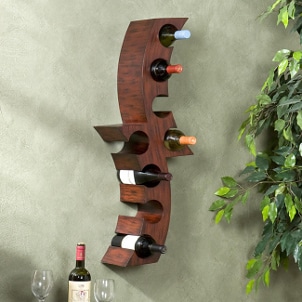 When you live in a small home or apartment, but you still want to have a wine collection, you need innovative wine storage options. If your abode is on the small side, you just can't pop down to the cellar whenever you bring home a few new bottles. But even if your square footage leaves a bit to be desired, you can find the right wine racks for your space.
Wine Storage Solutions:

Multi-use furniture: Many wine racks are built into other pieces of furniture. Buffet tables and end tables with space for wine beneath the table make use of extra space. Some of these tables proudly display your bottles, while others keep them tucked away and out of sight.

Wall mounted: If floor space and counter space are at a premium in your home or apartment, then you might prefer wall-mount wine storage. Wall racks can be mounted in your kitchen, living room, or dining room -- wherever you like to entertain. Choose from a variety of decorative wall-mount wine cabinets. Wood racks are earthy and will match wood cabinets and furniture, while metal racks are more contemporary. Many wine racks can be hung from the ceiling, which saves even more space in your home.

Expandable: Some wine racks are expandable, allowing you to take up minimal space now and to have more space for more bottles later. An expandable wine rack is a great investment because it allows you to store a few bottles at a time in your studio apartment, but when you move into your first one-bedroom unit, you can take it with you and put it to good use.

Small footprint: Just as the skyscrapers go up to save space, so can your wine racks. Tall, narrow wine racks allow to you store many bottles of wine without taking up a lot of floor space. These racks are available in a variety of styles, from vintage wrought-iron stands to artistic wood racks. Tall wine racks can complement the decor in your living room, kitchen, or dining space, making them seem more like furniture than storage solutions.

Buy Wine Racks
Back to Guides Directory