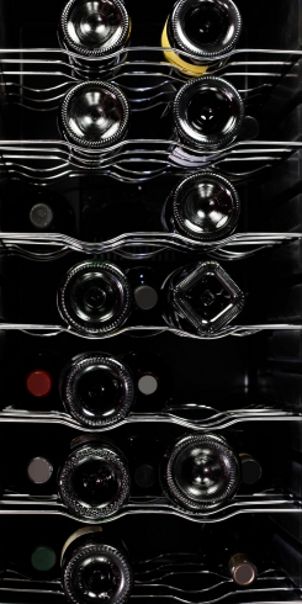 Keep your favorite vintage cool and fresh for years to come and buy wine coolers for your home. Whether you want under-counter wine coolers to keep bottles at your fingertips or an electric wine cooler to store in your basement or pantry, the following suggestions will help you find the perfect storage options for your wine. Read on for tips on buying the best wine coolers for your home.
Shopping for Wine Coolers:

Buy a cooler than can fit all of your wine bottles. Before buying any wine coolers, you'll want to consider the size of your wine collection and the number of bottles you'll need to store in your home. If you usually only keep three or four wines on hand, a compact under-counter wine cooler will work well and fit seamlessly into your kitchen. To accommodate a large collection of wines, however, you'll want to invest in wine cooler refrigerators that include sturdy slide-out racks and room for 20 bottles or more. You may also want to place a built-in wine cooler in your basement that can be customized to hold more bottles.

Find a cooler that keeps both red and white wines fresh. Red wine should optimally be stored at 50 to 55 degrees Fahrenheit, while white wine is freshest when stored at about 45 degrees Fahrenheit. Fortunately, a dual wine cooler allows you to store both red and white wines in the same area. These types of wine cooler refrigerators are divided into two side-by-side temperature zones and keep your wine safe from humidity, too. Look for a dual wine cooler that has soft LED interior lighting so you can easily see your wine collection without exposing the bottles to harsh light. Take care if you buy a built-in wine cooler with dual zones for your kitchen or pantry, as the temperature in these rooms can fluctuate.

Purchase energy-efficient wine coolers. If you'll be storing a lot of bottles in your home wine coolers, you'll want to find models that save energy and don't cost as much to run as a second fridge. Consider investing in a thermoelectric wine cooler, which lowers the temperature of the wine inside it based on the surrounding air temperature. A thermoelectric wine cooler does not contain a compressor, which can make it more efficient to run than an electric wine cooler. Thermoelectric home wine coolers are also safer for storing wine, because the compressor does not cause the cooler to vibrate and shake the bottles. Even the best wine coolers, especially thermoelectric models, should be stored in a dark, stable area where the temperature stays constant.

Buy Wine Coolers
Back to Guides Directory