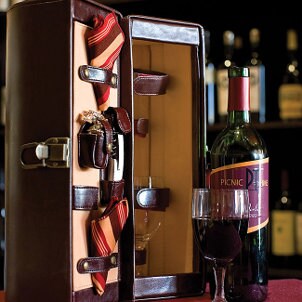 If you know a wine enthusiast, then you should consider giving wine accessories as gifts. Wine accessories make great gifts for housewarming parties, gift-giving holidays and almost any celebration. If a bottle of wine isn't quite enough for your next gift-giving occasion, add wine glasses, bar sets or a wine rack. Wine gift baskets are also fabulous. Try one of these gifts the next time you want to impress.
Giving Wine Accessories:

Wine holders and racks: Wine holders turn a bottle of wine into a fantastic gift. Decorative wine holders that display one or two bottles are perfect for gift-giving. Larger wine racks are classy choices when looking for a housewarming gift. Wine boxes and cases allow you to present your wine gift in style. Some wine cases are designed to transport wine to picnics or on vacation. These cases protect your best wine when traveling.

Wine glasses: All wine lovers need a variety of wine glasses. Give glasses with a bottle of wine to a newlywed couple or on a romantic occasion. Choose from crystal champagne flutes, glass goblets and colorful glasses. If you select designer wine glasses as a wine accessories gift, be sure the style will match the recipient's taste in dinnerware.

Corkscrew: Giving a nice corkscrew with a bottle of wine is both sophisticated and functional. Don't settle for a basic corkscrew; you will really impress with a modern corkscrew that does all of the work with the touch of a button. For an extravagant gift, put together a gift basket with a nice bottle of wine or two, a top-of-the-line corkscrew and an elegant bar set. Bar sets include knives, strainers, foil cutters and other helpful bar accessories. With your thoughtful gift basket, your friends can put on dazzling parties to show off their new home or entertain properly as newlyweds.

Wine chillers: Wine enthusiasts often find themselves unable to enjoy a bottle of white wine because they didn't allow themselves enough time to chill the bottle. Save them the headache by giving a wine chiller with your wine gift. Some wine chillers will have a bottle ready to drink in just a few minutes.

Buy Wine Accessories
Back to Guides Directory