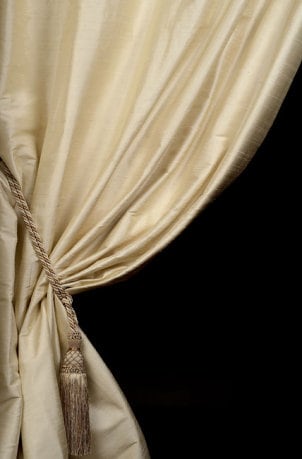 The bedroom is the place to go to relax in comfort as well as to get a good night's sleep. No matter what style bedroom decor you have, choosing the best window treatments for the bedroom is based on function, appearance and design. First and foremost, decide if you want simple curtains or more dramatic window treatments to enhance the appearance of the room.
Bedroom Window Treatments:

Thickness. If you have an east- or south-facing window that gets early morning light, you may want to get a heavier curtain to block the light, while rooms that have little natural light would be paired best with lighter fabric treatments to allow sunlight in. Consider a variety of window treatments with functionality. Blackout curtains are thicker than regular curtains, which not only helps reduce light that comes into the room but also helps with noise reduction. Blackout curtains are ideal for bedrooms that are near a street or get direct sunlight most of the day. Blackout curtains also come with a thermal liner, which make them energy-efficient to retain warm or cool air throughout the year, saving you money on heating and air conditioning.

Color. As with any bedroom decor, the choice of window treatment color can either be used to enhance the existing palette or add contrast. Depending on your bedroom color and design, choose curtains or drapes that keep your bedroom relaxing and tranquil. Softer colors like blue, chocolate or burgundy give the room a splash of color without being too intense. If your room is neutral with colors that are cream, white or any earth-tone, add a curtain with a pattern to keep the room elegant but not busy. Examples of window treatment patterns are striped, Damask, swirls or even floral. If the room already has busy patterns, such as on a comforter or rug, stick to a simpler pattern for the curtains.

Fabric. No matter what look you're hoping for; there are plenty of fabrics to choose from. If your room does not get natural light often, choose a curtain fabric that provides privacy without blocking natural light. Sheer curtains are ideal to let in natural light and pair well with existing window treatments like blinds or roman shades. For a luxurious bedroom, get creative with window treatments. Velvet curtains add texture to the room while providing the simple function of blocking out light.

Buy Window Treatments
Back to Guides Directory