Best Wedding Jewelry Sets
by Maegan Crandall
As you revel in your wedding planning and celebrations, you want to feel like yourself. Unique wedding jewelry sets are the perfect solution. These bridal sets are different from traditional engagement rings and wedding bands, giving you many options. Unique wedding jewelry sets will set you apart from the crowds of brides at the dress shops and perfectly accessorize your eclectic wardrobe. Consider one of these exclusive bridal sets.
Extraordinary Bridal Sets: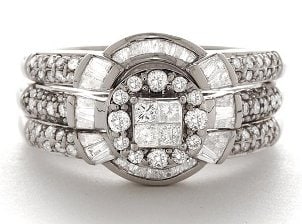 Shop Bridal Sets ▸
Look to the past:

Modern wedding jewelry is fine for some brides, but if you prefer vintage clothing and accessories, then consider retro wedding bands and antique wedding rings. Many vintage-style wedding jewelry sets are available. Antique bridal sets from estate jewelry collections are great if you want authentic vintage fashions, but many contemporary wedding jewelry designers are creating bridal sets with vintage details. Some wedding jewelry offers a subtle touch of retro glamour while other bridal sets are completely immersed in the styles of the past.

Have a cocktail:

Cocktail rings are popping up on the fingers of women everywhere; one of the best ways to get in on the trend is to choose a cocktail-inspired bridal set. Cocktail bridal sets feature one elaborate and eye-popping engagement ring with a matching, dramatic wedding band. If you can't find the cocktail wedding jewelry set that suits your tastes, consider creating your own with a beautiful diamond or cubic zirconia cocktail ring and a matching wedding band. Consider cluster settings when shopping for cocktail wedding jewelry sets for their affordability and unconventional designs.

Wear a rainbow:

White diamonds are not the only choice in bridal sets. Many wedding jewelry sets feature colored diamonds or colorful gemstones to give you a completely different look. Some of the most popular non-white stones in wedding jewelry sets include pink and yellow diamonds, rubies, sapphires and aquamarines.

Through thick and thin:

Choose an unconventional width if you want a unique look without going overboard. Thick bridal sets offer a fun vibe with a lot of shiny metal. Consider platinum wedding rings for their luster if you like thick engagement ring sets. Super-thin bridal sets are also a fun, unconventional option. Thin wedding rings are very delicate and feminine.