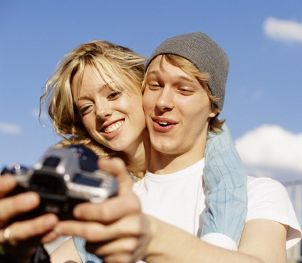 One of the most prominent parts of a marriage celebration is the giving of wedding gifts. Wedding guests bring gifts from the couple's registry; the bride and groom give gifts to their attendants and so forth. In addition, the bride and groom often choose to exchange unique wedding gifts on the day of their wedding. As a bride, you receive jewelry traditionally, but when you're trying to choose wedding gifts for the groom, it can be a little tricky. Read on for tips on getting the perfect wedding gifts for him.
Buying Wedding Gifts for the Groom:

"Watch" for unique accessories. Generally, a woman loves to receive jewelry as wedding gifts from her husband-to-be, but men also like to receive something special to wear on their wedding day. You have several options to choose from when selecting personalized wedding gifts for your fiance. Watches are great wedding gift ideas because your husband-to-be can wear one on your wedding day and many other occasions. Cuff links also make wonderful wedding gifts for him. Your fiance's suit or tuxedo will look even more polished with studded cuff links. Sturdy leather or vinyl belts with shiny buckles also make great accessories and wonderful wedding gift ideas.

Get him out with the guys. One of the best wedding gifts you can give your man is some much-needed guy time. For these gifts, think about what your fiance likes to do. If he likes to play poker, get him an engraved poker set that he can take to his next poker night with the boys. If you really have the money to splurge, buy him plane tickets to his favorite destination for a weekend out with friends for thoughtful gifts for him. For a groom who likes to fish, buy some fishing gear and set up time with his friends to send him on a fishing weekend. You can even rent a cabin in the woods to really surprise your guy as part of your gifts for wedding celebrations. Likewise, if your groom is a golfer, a new golf club and a booked tee time with his friends are the perfect personalized wedding gifts.

The gift of gadgets. What man doesn't love something digital or technical? Digital cameras or camcorders make great gifts for him because he can take wonderful pictures and videos of your vacations. Another great digital gift would be high-quality headphones that he can use with his MP3 or laptop. If you want to go all out with your gifts for wedding celebrations, you can opt to get him that big-screen television he has been eyeing or get him some gift certificates to his favorite electronics stores as the perfect wedding gifts for the groom.

Buy Gifts
Back to Guides Directory