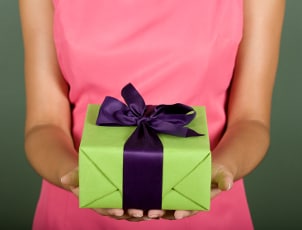 Are you looking for something special, something more personal to give your friends on their wedding day? Consider setting the wedding registry aside and buying a gift they won't get from anyone else at the wedding. You know your friends well, so consider their personalities and the gifts you think they would enjoy. If you need a few pointers, the following tips are full of ideas that any couple would love.
Gifts for Friends:

Wine: Give your friends a few bottles of fine wine to fill those wine glasses they'll receive for their wedding. Include something, like a bottle of champagne, they can enjoy together on their honeymoon. You may also want to include a bottle that they can share in the future: Pick a wine that gets better with age and attach a note saying, "Don't open until your 10th anniversary."

Spa items: Pamper the couple with a few luxuries they can enjoy together. A set of monogrammed towels and a towel warmer is a fun way to personalize your gift. You may also want to pick up a gift basket brimming with massage oils, scented candles and bubble bath. The couple can enjoy it on their honeymoon or save it for a romantic night at home.

Bed linens: You can never have too many bed linens, especially if you're a couple just starting out. Give your friends a set of luxurious silk or organic cotton linens with a high thread count to dress their bed in their new home. Make it a little more personal by purchasing sheets in colors to match their home and having the pillowcases monogrammed with the couple's initials.

Wedding keepsakes: Their wedding day will be one of the biggest days of your friends' lives. Help them celebrate and remember it with a thoughtful keepsake, like a photo album with their engagement picture on the cover or a set of wine glasses engraved with their wedding date.

Gift baskets: Fill a gift basket with everything the couple needs to enjoy a date night together. A romantic movie, some popcorn and a blanket will set them up for a date night at home, while a picnic basket filled with treats for two takes all the planning out of their hands. Think about what the couple likes to do together and create a gift basket with everything they need to spend an evening alone.

Buy Bridal Gifts
Back to Guides Directory