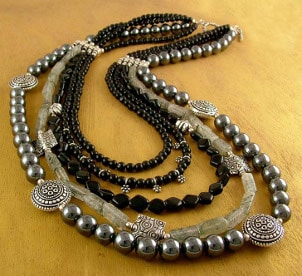 Are you looking for a gemstone that is unlike any other? Onyx is black and lustrous, and it is completely unique. A piece of gemstone jewelry doesn't have to be sparkly and overly feminine; onyx necklaces are dark, edgy, neutral, masculine and modern. These quartz gems make lovely pieces of gemstone jewelry, and onyx necklaces are incredibly versatile. Some onyx gemstones may have bands of white or red; these specimens are perfect for gemstone necklaces and other onyx jewelry. Onyx is February's alternative birthstone, but anyone can appreciate onyx jewelry and necklaces. Wear gemstone necklaces fashionably with our tips.
Wearing Onyx Necklaces:

Weekend: Your day off is the perfect time to experiment with onyx jewelry. Though this gem is versatile, you will want to determine how it is best displayed on you. Some casual onyx necklaces include pieces with small onyx beads or chips, carved onyx pendants and simple teardrop onyx stones. An onyx necklace with a peace sign pendant will add shine and edge to your favorite jeans and gypsy-inspired top. Add a green jade beaded bracelet or a rose quartz cocktail ring to the ensemble and hit the farmer's market.

Workday: Onyx jewelry lends itself well to a professional wardrobe because of its dark, neutral hue. Onyx necklaces with a string of large stones are bold enough to accessorize your sharpest black suit without fading into the background. Oversized onyx pendants look great swinging on a long chain. Try this onyx jewelry style with a pencil skirt and silk blouse for a movie-star inspired office look.

Evening: Onyx gemstones sparkle like the night, making them fabulous choices for dates, dinner parties and club hopping. To create a dramatic look with your onyx jewelry, try layering onyx pendants with pearls, chunky silver beaded necklaces or other gemstone jewelry. Extra-large onyx pendants hold their own with flashy jeans, beaded tops, velvet cocktail dresses, spiked stilettos, shiny tuxedo trousers and flirty shift dresses. Try layering several gemstone pendants on one necklace for a dramatic look. Onyx earrings, bracelets and cocktail rings also go a long way in accessorizing eveningwear.

Buy Onyx Necklaces
Back to Guides Directory