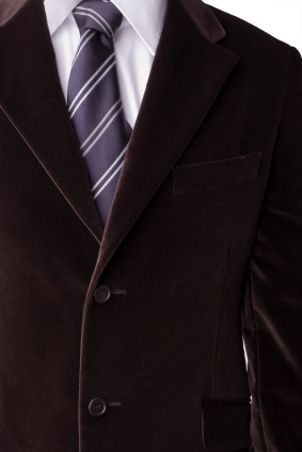 Are you looking for a classy, versatile piece that works well for many different occasions? Invest in a high-quality, well-cut men's velvet blazer. Unlike other tailored pieces, the velvet blazer is comfortable to wear. It looks elegant at formal affairs, sharp at parties and cool for the weekend. Read on to find ways to wear velvet blazers in almost any setting.

Put on a velvet blazer when attending a formal dinner. A black velvet blazer is an easy way to look polished at formal affairs. In contrast to the stiff tuxedo, the blazer evokes a warmer, effortless style. Create an outfit with a crisp collared shirt and a distinctive tie or bow tie. Add color in the tie or shirt so that your outfit includes more than black or white. If you are wearing a white shirt, select a colored or patterned tie or bow. Only wear one velvet piece at a time and wear tailored dress pants with your velvet blazer for a polished look perfect for any presentation or performance.

Wear velvet on the weekend. Dress a velvet blazer down with a pair of denim jeans. Dressier colors, such as black and navy, will allow you to go to a more upscale party or on a date, while brown, tan and grey blazers look more casual. Pair a dark blazer with dark jeans for a stylish look or wear lighter jeans to create a sharp color contrast. A brown men's blazer will look rugged and vintage with a pair of worn-in, stonewashed jeans.

Pair a velvet blazer with jeans for a party. The velvet blazer works well in a party atmosphere because it looks both dressy and cool. A black velvet blazer or navy blue men's blazer is most traditional, but you can also keep it more casual than your formal attire by wearing a turtleneck or cable-knit sweater instead of a collared shirt. Finish the outfit with a pair of dark jeans to create an edgier, effortless look or wear tailored pants for a put-together look.

View All Men's Blazers
Back to Guides Directory