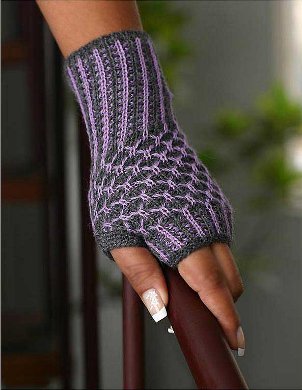 When the temperature outside drops, you'll want a pair of gloves on your hands to keep you warm. Gloves aren't just about keeping your hands warm; a cute pair of gloves can really highlight an outfit. One of the latest fashion trends is fingerless gloves. Warm, functional and stylish, fingerless gloves are the perfect addition to your winter wardrobe. If you're ready to try this new style but hesitant to start wearing your glovelets everywhere, the following tips can help you wear your new fingerless gloves in the most stylish ways.
Wearing Fingerless Gloves:

Keeping fingers free: One of the best reasons to wear fingerless gloves is that you get all the style benefits of gloves and mittens while still keeping your fingers free to type, text message or reach into your purse. Acting as arm warmers, these gloves will keep your arms and hands from chilling without becoming too bulky or burdensome. The open design of fingerless gloves also makes it easier to wear rings. Since your fingers are free, you can wear as many rings as you want without snagging your gloves. Fingerless gloves are also a great way to keep your hands warm while showing off your manicure.

Fashion accessory: Fingerless gloves aren't just for keeping your hands toasty. These women's accessories are just as much about looks as they are about fashion. Wear your fingerless gloves with a fitted shirt, skinny jeans and booties for a look that is comfortable and trendy. Try layering fingerless gloves with other gloves or arm warmers and bangles to draw attention to the accessories.

Mild weather: During the fall and spring, when the weather is cool, fingerless gloves provide the perfect amount of warmth for the season. Heavy winter gloves may be too warm for mild weather, but you may still want something to keep you from getting too cold. Glovelets keep your hands warm without all the bulk and warmth of winter gloves. Keep a pair of fingerless gloves in your handbag to wear on a rainy morning or cool evening. For those days when the temperature drops, layer your fingerless gloves over other gloves and mittens for an added layer of warmth.

Buy Gloves
Back to Guides Directory