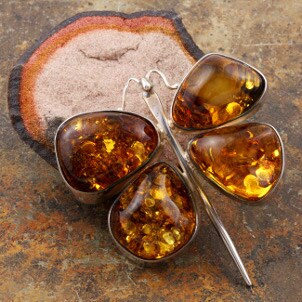 Amber is not only beautiful; it is also fascinating. Amber is hardened tree resin, and various amber gemstones in a variety of sizes and shades may be used in amber jewelry. Handmade necklaces with amber gemstones are beautiful and versatile. Handmade jewelry is also often unique and environmentally friendly. You can choose from a variety of amber jewelry styles, and the orange, yellow and red shades of amber gems complement any skin tone. Amber necklaces and handmade jewelry also make great gifts. Let us help you wear amber necklaces and other jewelry selections with our tips.
Wearing Amber Necklaces:

Weekdays: Amber jewelry is great for everyday wear. You can find subtle amber necklaces to wear to the office with a suit or skirt. Consider handmade necklaces with geometric shapes, feminine detailing and modern styles. Small amber gems are perfect for weekday wear and go well with other simple jewelry, such as small gold bangle bracelets and classic drop earrings.

Weekends: Amber necklaces can be casual enough for a Saturday morning trip to the farmer's market or a Sunday afternoon museum visit. Hang a sterling silver amber pendant from a nice piece of leather to create an all-natural accessory that you can pair with khakis and a crisp white shirt. Wear your casual amber necklace with a leather cuff bracelet or sterling silver ring.

Evenings: Amber can easily be dressed up for evenings out. Wear a large amber pendant with a sexy dress or swingy skirt for an outfit that can go from a nice restaurant to a jazz club. Make your amber jewelry stand out in the club by pairing it with other gemstone jewelry or wearing layers of gold necklaces with your amber pendant.

Special occasions: If you have a fall wedding or a spring cruise coming up, you can easily plan an outfit around an ornate amber necklace. Amber necklaces often incorporate a variety of other gems, such as onyx and tiger's eye, and can be set into luxurious gold settings. Pair a gorgeous amber necklace with a long evening gown, a stack of gold bracelets and ornate gemstone chandelier earrings.

Buy Handmade Necklaces
Back to Guides Directory