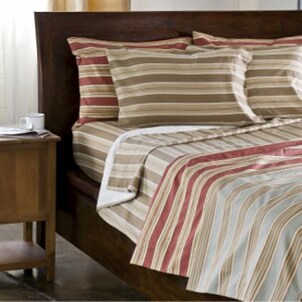 Things You Need:
Needle and thread or sewing machine
Old sheets
Bulletin board
The next time you buy new bed sheets, reconsider before you throw the old sheets out. Whether your linen closet is overflowing with old sheets or you are hanging on to bed sheets that need mending, there are plenty of great ways to reuse old bedding that will add character to your home and reduce waste. This guide will give you a few ideas about the best ways to repurpose an old bed sheet.
Top Ways to Reuse an Old Bed Sheet:

Turn them into curtains. The simplest way to repurpose your old bed sheets is to use the flat sheet as a curtain. Simply fold down two inches at the top hem and sew a straight line. Making curtains from old sheets is typically easier than creating brand-new curtains out of fabric because all the seams are already sewn for you. It doesn't get much simpler than that.

Create accent pillows. If you're hanging on to old sheets that coordinate with your bedding, try turning them into accent pillows. This works well for sheets with signs of wear because it allows you to choose the surface area you want to turn into a pillow. To create throw pillows, measure out a pre-existing pillow or insert, cut out fabric and sew up three sides. Insert the pillow and finish sewing the fourth side.

Make your own braided rug. A braided rug adds warmth and coziness to your home and isn't hard to make. Tear your sheets into vertical strips, depending on how thick you want your braids to be. Bind three strips together by sewing a straight line across the top. You will need to braid several strips, sewing them closed at the bottom when you are finished. After you have the desired number of braids, begin winding them in an oval shape on the floor, hand-stitching each line together with a needle and thread, until you have a large enough rug for your space.

Sew a sleep sack. For frequent travelers, a sleep sack made from old sheets is a comfortable alterative to hotel or hostel bedding. Simply fold a queen or king-sized flat sheet in half and sew up the bottom and side, leaving an opening at the top. This sleep sack is easy to roll into luggage and can be washed frequently while on the go.

Jazz up your bulletin board. To make a standard bulletin board more of a design statement, try covering it with the fabric from an old bed sheet. Measure your board, adding one inch all the way around, and cut out a corresponding piece of fabric from old bed linens. Affix the fabric with glue or a staple gun and you'll have a design statement that is ready to be hung on the wall and covered with personalized pictures.

Buy Sheets
Back to Guides Directory