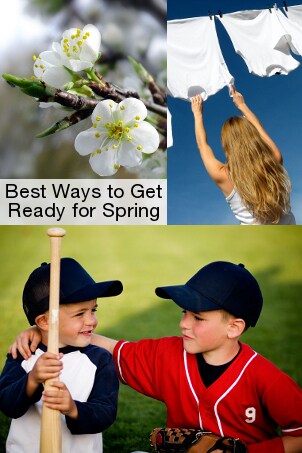 You know the signs of spring. Depending on where you live, the snow is beginning to melt, flowers are starting to bloom, and the winds of change can be felt all around. Spring symbolizes rebirth and can be an opportunity for you to change things in your life or awaken aspects that went dormant during the winter months. Whether longer days and warmer temperatures inspire you to renovate your home or tweak your exercise routine, try these ideas and make the most of spring.
Renew with Spring Rituals:

Clean up. Spring cleaning happens for a reason; the warming temperatures make it easier to give the entire house, inside and out, a thorough scrubbing. Open windows and draw back the drapes to refresh the stale air and let more natural light into your rooms. Take advantage of the extra light by dusting everything, including ceilings, corners, and cabinet tops, and then vacuuming carpets, rugs, and furniture. Inspect the room. Do you need to steam-clean the rugs or clean the drapes? Could the walls use a fresh coat of paint? While you're cleaning the windows and sweeping away winter debris, check your home's exterior, too, and make a list of home improvement projects. When you've finished cleaning and making repairs, you and your home will be ready to invite the lighter atmosphere of spring and summer in to stay.

Join Mother Nature's green movement. If late winter finds you searching for green shoots amidst the melting snow, it's time to make plans for your vegetable garden. Draw a diagram of your plantings, even if your garden is a group of pots on your apartment patio. Make a list of seeds, plants, and gardening supplies you'll need, and then get everything prepared, so you can plant as soon as the temperatures allow.

Revamp your wardrobe. Pull out your warm-weather clothing and take inventory. Figure out what you still want to wear and how it will mix and match with this year's spring and summer styles. Start shopping for new swimsuits, too; new styles are available in late winter. If you exercise indoors during the winter but plan to move your routine outdoors for spring, you may want to shop for some new fitness clothing that will let you stay cool and comfortable.

Get outside. Spring is a great time to think about getting healthy and fit for summer fun, so start running or walking outside when the days get longer. Start planning your outdoor activities, too; before you go rock climbing, cycling, or fishing, you'll need to check your outdoor gear and see if anything needs to be repaired or replaced. Pull out your patio furniture and set it up so you can enjoy dinner on the patio until autumn. The fresh air and sunshine will inspire you to enjoy spring and anticipate summer.
What Do You Want to Do Next?

Shop Outdoor Play
Shop Garden & Patio
Shop Outdoor Gear
See All Guides
Read More Sports and Fitness Guides
Learn More about the Outdoors