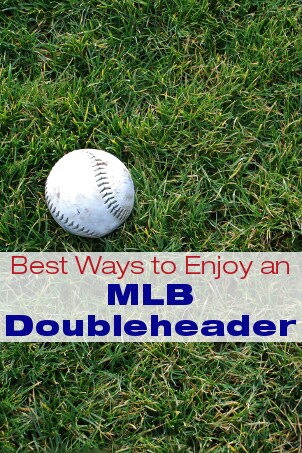 The first televised MLB game was a doubleheader between the Cincinnati Reds and the Brooklyn Dodgers on August 26, 1939. The game was broadcast to approximately 400 televisions in the New York City area. (The Reds won the first game 5-2, and the Dodgers won the second game 6-1.) Since then, sports broadcasting has come a long way. Today, a baseball fan can catch their favorite team's games on a number of television channels if they can't get out and enjoy the game in the stadium. In honor of America's favorite sport, here are a few ways to enjoy a doubleheader, whether you are watching it in the comfort of your own home or you're at the game.
Make the Most of a Doubleheader:

Invite friends. One of the best things about sporting events is being able to enjoy them with friends. Make a night of it and go with a group to see the game at your local stadium, or invite your friends over for a doubleheader party at your house.

Settle in. The seats at the stadium aren't always the most comfortable, so make sure you bring your own stadium seat or other padded cushion. Blankets are a good idea if the games will be running late; you don't want to be cold or uncomfortable and miss out on the action! If you're at home, make sure you have the snacks and beverages close at hand. No one likes running to the kitchen between pitches.

Serve food. The stadium hot dog is one of the great institutions of baseball. If you can't be at the game and enjoy one, make one yourself. It's easy to grill up a few hot dogs or burgers to share with your friends. And don't forget the beverages; keep them flowing throughout the game by keeping a cooler, or your fridge, full of frosty drinks. If you have a dedicated rec room for watching sports, you could install a mini fridge or a kegerator.

Follow the action. Whether you like to follow the statistics or just keep track of your favorite player's superstitions, there's a lot to pay attention to during a baseball game besides who is at bat. Fans in the stadium enjoy the tradition of heckling players, while viewers at home may want to create a drinking game based on the game, the TV announcer, or even the commercials.

Show your team pride. Let's not forget the best part of being a sports fan -- showing your support for your team. Stock up on baseball collectibles for your team. From jewelry to bags, T-shirts to umbrellas, there is nothing better than wearing, or waving, your team's colors when they win. Decorate your rec room in team memorabilia to create the right atmosphere for games you enjoy at home, and every game will feel like a celebration.
What Do You Want to Do Next?

Shop Baseball Equipment
Shop Baseball Memorabilia
Shop Baseball Collectibles
See All Guides
Read More Sports & Fitness Guides
Learn More about Fan Gear