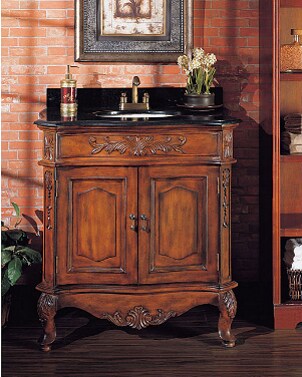 Your bathroom will benefit from the addition of stylish bathroom furniture. In addition to giving your bathroom a fashion boost, it can also give you extra storage for all your bathroom necessities. Storage space can be hard to come by in any room of the home, but bathroom storage seems to be the most difficult to acquire. Fortunately, adding or replacing bathroom furniture is an easy solution that can transform your cluttered bathroom into a much more organized room. Instead of struggling to find the things you need in the morning, you can start your day off right. Keep reading for tips and hints on the Best Ways to Add Storage to Your Bathroom.
Adding Bathroom Storage:

A new vanity. Bathroom vanities offer a tremendous amount of storage space. When you invest in a bathroom vanity you'll typically get drawers, cupboards and tabletop storage. This storage space accommodates both large and small items and keeps them organized. You'll have room for all of your bathroom products when you use your bathroom vanity properly.

Invest in free-standing cabinets. Cabinets are great for bathroom storage, whether it be towels, toilet paper, a blow dryer or extra toiletries. There are many different types of cabinets, so you're sure to find one that fits your bathroom's size perfectly. Try a corner cabinet for smaller bathrooms. Corner cabinets take up very little space and fit snugly in any bathroom corner. For those bathrooms that do have a little more room in them, a large cabinet offers plenty of storage for all your necessities.

Add a medicine cabinet. Medicine cabinets work well in a bathroom if you want to organize a lot of small items on shelves instead of digging for them in drawers. They typically have a mirrored front and hang over the sink. Medicine cabinets also have decorative wood or glass fronts and these styles typically hang on a wall adjacent to the mirror or over the toilet.

Install extra shelving. There are many shelving options for your bathroom. Shelves can be free-standing or wall-mounted, and some will even stand over the toilet, giving you a good place to store your towels. Most bathroom shelving is designed to be stylish and fashionable; so if you are bored with your bathroom's decorations, try adding some shelves.

Buy Bathroom Furniture
Back to Guides Directory