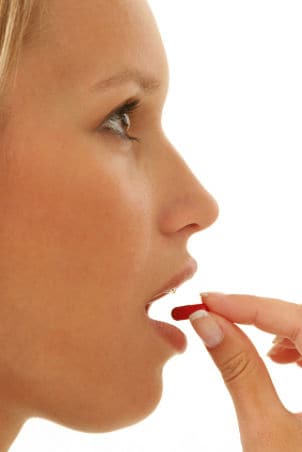 Getting healthy hair doesn't depend entirely on genes, hair products and styling routines. You can improve the quality of your hair by taking vitamins. With the right hair vitamin routine that includes supplements that are essential to hair nutrition, you can enhance hair growth. You may also experience an improvement in the look and texture of your hair. Thick, shiny locks can be easily within your reach with the perfect hair vitamins for healthy tresses.

B vitamins. Most B vitamins are important for hair growth, including B3, B5, B6 and B12. Niacin, also known as B3, is essential for a healthy scalp with good circulation. Some foods rich in vitamin B3 include fish, chicken and turkey. B5, also known as pantothenic acid, may prevent grey hair and is found in egg yolks and whole grains. B6 and B12 are also found in grains and eggs and can prevent hair loss. B-complex vitamins can give you a quick dose of these hair-healthy vitamins, and vitamin-rich sport beverages are also commonly filled with B vitamins.

Vitamin A. Vitamin A is an antioxidant that is widely known to improve hair texture and sheen. Vitamin A assists in producing sebum in the scalp, which leads to healthy oils throughout the hair. A vitamins are available in supplement form, and many foods are also rich in A vitamins, including spinach, broccoli, cheese, cabbage, peaches and apricots. Vitamin A also helps improve skin quality and texture, so use vitamin A as an all-over beauty regimen.

Vitamin E. Vitamin E is essential to the overall appearance of hair. Vitamin E works wonders for the scalp, leading to more hair growth and oil production, which helps hair appear silky and soft. Vitamin E supplements are widely available, and many foods are also rich in vitamin E, such as soybeans, nuts, beans and dark-green leafy vegetables like spinach, kale and collard greens.

The content on this site is not intended to substitute for the advice of a qualified physician, pharmacist or other licensed health-care professional. The products may have additional information and instructions on or inside the packaging that you should carefully read and follow. Contact your health-care provider immediately if you suspect that you have a medical problem. The use of dietary supplements may not have been evaluated by the Food and Drug Administration and is not intended to diagnose, treat, cure or prevent any disease or health condition.

View All Vitamins
Back to Guides Directory