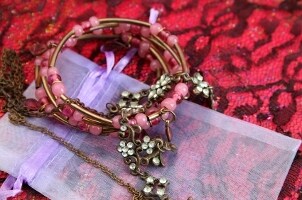 If you're looking to enhance your jewelry collection with vintage beads, then pick an era to shop for the perfect piece. Every time period has fabulous offerings of retro jewelry, but three main vintage styles represent heavily in beaded bracelets. The Art Deco movement brought sleek bracelets in contrasting hues to the table. Hippies gave us texture in the form of leather and beaded jewelry. Rockabilly chicks blessed us with bold and colorful beads. Which style is your favorite?
Options in Vintage Bracelets:

Art Deco: sterling silver beads and marcasite accents. The Art Deco period took place during the 1920s and 1930s. Styles from this collection are heavy with sterling silver and feature black and grey adornments. The philosophy is to keep things symmetrical with clean lines and straightforward color choices. Art Deco styling also made a strong appearance in 1960s mod jewelry. Marcasite is common in Art Deco accessories. Marcasite, a popular alternative to diamonds in many antique pieces, is a shiny green-grey gemstone. Look for Art Deco bracelets featuring sleek sterling silver and black onyx beads. Elaborate silver designs are also common in this category.

Rockabilly: bright and chunky. Are you looking for something much bolder? Consider rockabilly bracelets. The rockabilly trend was inspired by the country-rock music of the 1950s. Rockabilly styles feature bright colors and chunky designs. A bracelet with oversized pink beads and square leopard-print ornaments is the perfect first rockabilly piece. Novelty beads are also popular in this vintage category. Choose large beads and charms shaped like dice, cherries and stars.

Hippie: beads and leather. Are you seeking something more natural? Hippie-inspired beaded bracelets are the perfect option. Jewelry from free-spirited 1960s collections mixes bright beads with casual materials like leather and hemp. Look for bright orange beads woven right into braided brown leather bracelets. Rainbow beads, shells and small glass accents add a stunning level of style to hippie bracelets, and small gold and silver charms add texture and dimension. Wear several bracelets at once if you really want to commit to the hippie look. Try pairing beaded bracelets with leather, gold and hemp bracelets.

Buy Beaded Bracelets
Back to Guides Directory