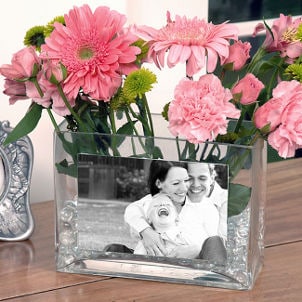 You just received beautiful fresh flowers, but now you have to find a vase to put them in. With tall vases available for long-stemmed roses and tiny bud vases you can buy for small bouquets or single blooms, you may have a few questions about buying the right flower vase to complement your favorite blossoms. The following tips will help you find the best vase for displaying flowers in your home.
Choosing the Best Flower Vase:

Keep a traditional glass vase on hand. While colorful decorative vases can be fun and can complement the bright hues of your flowers, nothing beats the classic glass vase when you want a clean, organic way to display a bouquet. Look for a glass vase in a bubble shape with a small ruffled opening to arrange flowers with short stems and wide blossoms, including sweet peas and lilacs. Buy glass cylinder vases that can hold roses or calla lilies.

Buy bud vases for small flower bunches. Though their name suggests a single bloom, bud vases can hold floral arrangements, too, as long as they have slim stems. Small carnations work perfectly in these decorative vases, as do a few gerbera daisies. Look for white ceramic vases with wide, round bases for a twist on the traditional glass bud vase. You can also find a little bud flower vase made of colored glass to create a retro vibe on a window sill or shelf.

Find square vases for top-heavy flowers. If you want to keep thick blossoms, such as peonies or hyacinths, from drooping, place your arrangements in square vases. The pretty ruffled shapes of clustered peonies contrast against the sharp, geometric curves of square vases, especially white or black styles. Look for square ceramic vases to support thick arrangements; you can also place stones or glass beads in the base if the stems are too short.

Purchase crystal vases for elegance. When you want to create a show-stopping centerpiece, arrange a thick bouquet of roses or lilies in a tall crystal vase. While a fluted shape with a floral or criss-cross pattern is one of the most popular styles, you can also buy a crystal vase in a bubble shape for holding smaller flowers, like cherry blossoms. Tall vases made of etched crystal can make even the simplest arrangement of daisies look graceful, especially cylinder vases with tapered openings.

Buy Vases
Back to Guides Directory