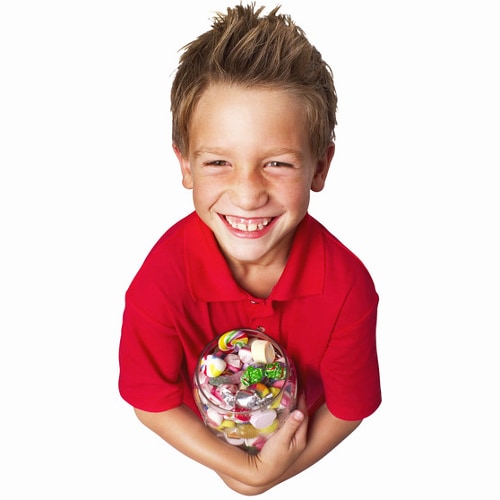 Best Valentine's Day Gifts for Boys
Every Valentine's Day, hearts, flowers, and lace are often all you see for sale, making it easy to find gifts for girls. Finding Valentine's Day gifts for boys, however, might seem like a challenge. But it isn't really that much more difficult to buy gifts for boys than girls. You can actually give a lot of similar things; just choose items that he would like and use less feminine packaging. After all, a gift just needs to show that he is special to you.
Handheld Video Games
Handheld video games are fun for kids who like something they can carry to their friends' houses and play on-the-go. The PS Vita is the latest handheld gaming device, and there are lots of games for it that are rated "E" for everyone. LEGO brand games and Angry Bird games are especially popular with little boys.
Sweets
Any boy would appreciate a delicious snack for Valentine's Day. Chocolates and treats are not going to result in any complaints. Consider getting him a giant candy bar or a gum ball machine of his own. Get a decorative cookie jar and fill it with mixed candies, snacks, or baked goods. If you will be sending your valentine gifts long distance, choose a gift basket filled with candy that a kid would like.
Movie Package
Get a large popcorn tub and fill it with fun items for a movie night. Add a DVD or two of his favorite children's movies. Put in some microwave popcorn packages and candy. Add a small toy that relates to the movies you've chosen. Wrap it in plain red cellophane and tie a ribbon around it.
Cool Accessories
If you're looking for something that will be treasured, a simple silver chain or a boy's watch can make a great gift, especially for teenagers. You can also give more functional accessories, too. Beanies, scarves, and gloves are good gifts if it's cold in February where you live. If he's into sports, give him accessories he can use for that, like snowboarding goggles, skateboarding pads, or a bicycle helmet.
Treasure Box
Get a cardboard box shaped like a treasure box and fill it with fun games and treats to create a unique valentine gift. Like a gift basket, you can fill these boxes with whatever you think would be fun and appreciated. You might go with a theme, such as sports gear or art supplies. Alternately, you can simply fill it with a mixture of toys, such as action figures, small games, building toys, puzzle books, and comic books.
Bedroom Decor
His bedroom is his space to express himself. Look for children's artwork to help him personalize his bedroom. He'll love a bold art print that shows off his interests. New bedding can update his room, too; look for a set of printed sheets or a throw pillow with a fun character on it.
Fun Fragrances
Fragrances are popular Valentine's Day gifts for adults, but did you know they make great gifts for kids as well? An eau de toilette is a lighter fragrance, and there are many EDTs that feature cartoon and video game characters. Include one of these kids' fragrances in a treasure box, or spoil a style-savvy teenage boy with his first men's cologne.
Today $14.09

See details on product page

Today $13.99

$18.20

See details on product page

Save: 23%

Today $14.99

See details on product page
what shoppers are saying about Gifts for Boys at overstock™
Related product reviews

Perfect Gift

VERIFIED PURCHASE

The boy loves this toy I couldn't have gotten a better gift

Dr.

VERIFIED PURCHASE

I got five of these for my boys . . .just as a gag gift!

sons with beards

VERIFIED PURCHASE

A gift for my Boys for Christmas and they loved it

Meals cooked perfectly

VERIFIED PURCHASE

I purchased this as a Christmas gift for my daughter who is not a cook. Both she and her two boys have now learned how to use the crock pot and prepare their daily meals in it.

Science kit

VERIFIED PURCHASE

Gift for my 8 year old grandson. What boy wouldn't like this.

so cool

VERIFIED PURCHASE

spinner is smooth my boy will love it... birthday gift

Toilette Spray

VERIFIED PURCHASE

This was the perfect and inexpensive gift that I have ever gave. The boys loved it and now asking for more. Such s great selection to choose from. It's not a strong smell.

He loved it

VERIFIED PURCHASE

Surprise Christmas gift. The boy who got this loved it.

Very cute & good quality

VERIFIED PURCHASE

Cute Christmas gift for my baby boys that they can play with/showcase for years to come.

Shop Other Events