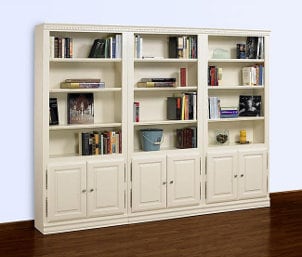 Investing in living room shelving is a smart way to ensure that your home is always clean and ready for any company that stops by unexpectedly. Your living room is a natural gathering place for guests to sit and visit, and it's important that it stay clean if you want it to make a good impression. Your living room shelving allows you to keep your living room clean, organized and ready for visitors. However, your living room shelving isn't just for keeping your things off the other furniture. It can also be a huge fashion boost for your living room that your guests won't be able to help but notice. Keep reading for ideas on the best uses for your living room shelving.
Living Room Shelving:

Organization. Living room shelving is an ideal organization solution. Having several extra shelves of space to store items means your end tables can stay organized as well. Install living room media bookshelves and watch the extra piles of books, magazines, movies and CDs disappear, leaving your living room furniture open and neat.

Storage. Whether you want to store books, movies or games, living room media bookshelves are the perfect place to keep them. Keeping items in storage on bookshelves will also protect the items from getting accidently stepped on and broken. You may want to consider investing in wicker baskets for your shelving. These baskets are the perfect storage solution for your items and give your living room a fashion boost at the same time. You can decorate the baskets with complementary ribbon or fabric so they will match your living room.

Display. Too many knickknacks can crowd a living room table and render it useless; but when you use book cases and other shelving, this problem disappears and you're left with a clear living room table again. Living room book cases are good display areas, especially the ones that have adjustable shelves. Breaking up the lines of your shelves, especially if you've lined up several shelving units in a row, will create visual interest in the room and in your shelves. Your knickknacks and collectibles aren't the only things on display. Your bookshelf is also something that guests scrutinize. In order to create more visual interest, try something different when you order a display cabinet and turn it on its side. It will generate a lot more interest this way.

Buy Media Bookshelves
Back to Guides Directory