Best Uses for Cheap Blankets
by Staff Writer
Everyone can make use of cheap blankets. While luxury bedding is nice, it isn't always what you need. In those cases, you can save money on the blankets you use.
Using Cheap Blankets: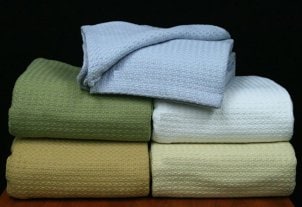 Shop Blankets ▸
Use them on kids' beds.

If you have kids, you can use cheap blankets to make sure their bedding is rotated regularly. Keeping bedding fresh and clean can help defend against illness, so it's smart to switch it out often. With children, it may be a much better solution to have several sets of less expensive bedding than one set of higher end bedding.

Use them in the guest room.

Inexpensive blankets are also terrific for guest rooms. Outfit a guest bed with a few blankets to ensure a great night's rest for your visitors. You can also store several extras in the closet of your guest room, which will allow your company to add warmth to their bed if they so choose.

Use them all around the house to increase comfort and warmth.

Bedrooms aren't the only appropriate places for cheap blankets. Consider keeping a few blankets and throws in a cabinet or a storage ottoman near the sofa in your living room, where they'll offer warmth and comfort for everyone in the family. You can also use cheap blankets in a home theater to make sure you have something to curl up with while you enjoy a movie.

Use them outside.

If you didn't spend a lot of money on a blanket, you won't be as concerned about whether or not it gets a little dirty. Save your luxury bedding for your bed, and take cheap blankets on a picnic or to the beach. Keep a few in a storage bench in your mud room or entry way, so you can grab them before you head out.

Keep one in your car.

Add a cheap blanket to your vehicle's emergency kit. If your car were to break down during a snowstorm and you were waiting for a tow truck, you wouldn't need anything fancy, just a little something to stay warm under until help arrived.

Let your kids make blanket forts.

A few sturdy dining chairs, a bunch of clothespins, a stack of cheap blankets, and their imagination are all it takes to create a castle, a pirate ship, a space station, or a prehistoric cave. With plenty of inexpensive blankets around, rainy days will never be boring again.