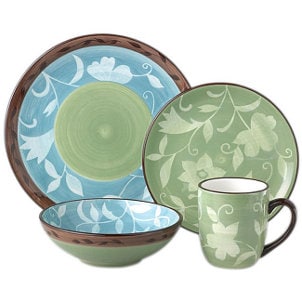 Food is one of the great pleasures in life, and you can make it even more enjoyable with the right casual dinnerware set. The right dinnerware can act as your secret ingredient -- spicing up any and every meal with no extra effort on your part. Whether you're a food aficionado or a first-time hostess, a casual dinnerware set is a must-have for impromptu parties and daily use.
Casual Dinnerware Uses:

Picnics: Picnics can be fun or they can be complicated. Keep it simple with a casual dinnerware set: simply pack it up, add food and you're ready to go. Casual dinnerware has the advantage of being reusable. It's a one-time expense and is gentler on the environment than disposable supplies. Once you've used it, just wash and return the dinnerware to the picnic basket; you're ready to go at a moment's notice.

Family meals: Setting the table creates a sense of occasion and can make any meal a family event. While using fine china can be fun, it can also add extra work if it has to be hand-washed and extra stress if you're worried about it getting broken. Choose some casual dinnerware that's both fun and functional. Get one of the kids to set the table and toss the dishes in the dishwasher when you're done; simple rituals can elevate any meal.

Causal parties: Having friends and family over is a time-honored way to celebrate life's milestones. When you're ready to focus on your party instead of party prep, you're ready for a casual dinnerware set. A matched dinnerware set makes any event seem well-planned, even if all you've done is ordered pizza and thrown together ice cream sundaes. Make guests feel pampered and treat yourself to easy set-up all in one step.

Tying together a theme: If you're having a theme party for the 4th of July or any other occasion, a casual dinnerware set can be the perfect finishing touch to your decorating efforts. Coordinating colors can tie a room together, and some dinnerware sets can serve multiple holidays. Consider red plates for BBQ and winter holidays or choose a neutral set and let other decorations set the tone for the event.

Supplementing existing sets: Even on occasions that require a fancy table setting, casual dinnerware has its place. Set the kids' table with casual dinnerware and enjoy peace of mind while the kids enjoy their own "special" dishes.

Buy Casual Dinnerware
Back to Guides Directory