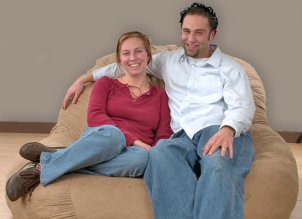 Don't limit yourself by thinking of bean bag chairs only as furniture. The best uses for bean bag chairs include everything from sofas and lap desks to back support and pet beds. If it's time to update the look of your home but you're not ready to commit to a whole new furniture set or if you need a way to make your child's room more inviting, then a bean bag might be perfect for you.
Using Bean Bag Chairs:

Sofa or chair: Bean bag furniture comes in a variety of sizes and shapes, so you can find a bean bag chair that will work in whatever space you have. From the double lounger that's big enough for comfortably watching movies with a loved one to the extra-small size perfect for the little one in your life, there's a bean bag chair that's perfect for you. Whether you want oversized bean bag chairs for the family or living room or kids' bean bag chairs for children's rooms, you'll have no trouble finding what you are looking for.

Bedding: Bean bags offer a unique sleeping experience. They're more maneuverable than traditional mattresses and can provide a solution to the awkward positions required for sleeping with a broken arm or other injury. Because of their adjustable shape, bean bag chairs are great for dragging into a sun beam for a cat nap on a sunny afternoon. If you have guests, it won't be hard to persuade them to pass out on your beanbag.

Pet bedding: If you view your fuzzy friends as members of the family, treat them to their own bean bag chairs! Dogs and cats love the squishy filling; something about bean bags says "nest here" to animals of all types. Be sure to choose a bean bag chair with a durable cover if you're going to let little claws enjoy it too.

Special use: Picking the right bean bag can mean you have portable furniture. With a water-resistant cover, many bean bag chairs can be used outside for picnics or lounging poolside. Smaller sizes of bean bags can be used as lap desks, perfect for propping up a book or laptop as you read and work. You can even tuck a bean bag under your head or behind your back. Find the perfect amount of support for any activity.

Buy Bean and Lounge Bags
Back to Guides Directory