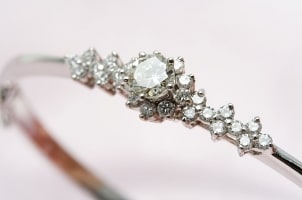 When layering a pretty new dress with leggings and your favorite sweater, reach for a unique diamond bracelet to complete the look. Classic diamond tennis bracelets are fine for occasions when you want to fashionably blend in, but other times you want to stand out. When putting together a sexy club outfit or a funky art gala ensemble, use unique diamond bracelets to draw attention to your mod style. Consider some of these cool bracelets when shopping for new diamond jewelry.
Unconventional Diamond Bracelets:

Colored diamond bracelets: Colored diamonds are much bolder than their sparkling white relatives. Diamonds can naturally be pink, yellow, brown, blue, black, green, purple, orange, red and grey. Many of these colored diamonds are extremely rare, but diamonds can be colored to mimic these natural stones. Choose a diamond tennis bracelet with alternating pink and yellow stones or buy diamond jewelry with black and grey diamonds.

Multi-strand bracelets: If one thin strand of diamonds won't satisfy your appetite for sparkle, consider multi-strand diamond bracelets. These lovely pieces of jewelry add what looks like a whole quarry of diamonds to your wrist. Multi-strand bracelets are delicate and feminine enough to wear with almost anything; this jewelry won't overwhelm an outfit with a wall of metal and stones because each strand moves individually.

Cuff bracelets: If you want a sturdy diamond bracelet that you can throw on with anything, look for cuff bracelets studded with diamonds. Many cuff bracelets showcase just a few large stones, but some cuffs are covered in diamonds in every shape and size.

Geometrical bracelets: Many conventional diamond bracelets have groups of uniform stones. To break away from this cookie-cutter style, look for geometrical diamond bracelets with interesting shapes and textures. The shapes may be made of metal or they may incorporate the diamonds, as well.

Leather and diamonds: Diamonds are most often set into gold, platinum and silver, but leather bracelets are trendier than ever. Leather and diamond bracelets marry edgy rock star style with elegant royal fashions. Wear leather and diamond bracelets when you want to spice up a sweet outfit or a boring ensemble.

Solitaire bracelets: You've heard of solitaire rings, but have you checked out any solitaire bracelets? These diamond bracelets showcase one large stone on a thin metal band. Accent diamonds are often added to the jewelry. These diamond bracelets will remind you of tiaras and engagement rings.

Buy Diamond Bracelets
Back to Guides Directory