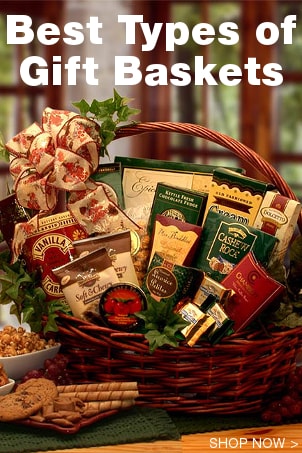 If you want to show someone that you really care, gift baskets are an excellent way to do it. They come in all shapes and sizes, and their contents vary widely, making them perfect for any gift-giving occasion. To find a gift that will feel personal and meaningful, consider the different types of gift baskets and choose the one that suits the recipient.
Best Gift Baskets:

Chocolate gift baskets: Chocolate is one of the most popular treats in the world, and gift baskets featuring it come in a variety of sizes and arrangements. You can find them loaded with fun candy bars or fine chocolates and truffles. If you have a baker in your life, consider finding a gift basket with the ingredients to create delicious sweets, cookies, and other chocolate desserts. Chocolate gift baskets are the perfect gift idea for Valentine's Day, anniversaries, winter holidays, and birthdays.

Tea gift baskets: A warm cup of tea is soothing when you're sick, and it's the perfect way to unwind and relax when you're feeling stressed. Some tea gift baskets have an assortment of teas, while other have one kind of tea plus complementary snacks. Some even include a tea pot. Give a tea gift basket as a get-well gift, a retirement gift, or a thank-you gift.

Wine and cheese gift baskets: These luxury gift baskets feature perfectly paired wine and cheese combinations. If you're in need of a gift for a gourmand, wine and cheese gift baskets will work like magic. Some of these feature a variety of gourmet cheeses combined with a couple bottles of fine wine, while others focus solely on one type of cheese and one type of wine. Some also include gourmet chocolates or snacks. Wine and cheese gift baskets make excellent business gifts, whether for a client, employee, or boss. They're also perfect for the winter holidays.

Spa gift baskets: Everyone can use a long, relaxing soak in the tub, and that's why spa gift baskets are such a popular choice. These often include scented bath salts, luxury soaps, lotions, and incense. Look for aromatherapy gift baskets that contain candles, bubble bath, and lotion in one matching scent that is designed to create a specific mood. Lavender is a favorite relaxation scent. Spa gift baskets are excellent gifts for Mother's Day or anniversaries, and as thank-you gifts.

Classic treat gift baskets: There's something nostalgic about eating the snacks you loved as a child. A gift basket filled with the candy, chips, cookies, and sodas you loved in your youth can be comforting and cheerful. Give a classic treat gift basket for a milestone birthday, or send it to a college student who needs a pick-me-up.

Shop Chocolate & Food Baskets
Shop Spa Gift Baskets
Shop All Gift Baskets
See All Guides
Read More Giving Guides
Get More Gift Ideas for Every Occasion