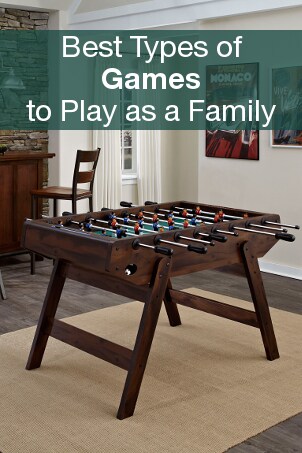 SHOP REC ROOM GAMES NOW >>
Playing games as a family strengthens relationships and creates fun memories. Involve your family and choose from a wide selection of games and puzzles to play. It doesn't matter if you have small children, teenagers, or grown children; you'll can still find the perfect game to play together. Here are the best types of games to play as a family.
Best Family Games:

Board games: Board games are the most popular types of games for families. Finding a board game to fit your family's needs is easy: Just look for something that is appropriate for the youngest person in your family, so he or she can participate. Or you can have young children play on teams with older children or adults, so the younger kids can get some help keeping up. Most board games are able to accommodate four or more players which makes it easy to include everyone on game night.

Card games: Many card games are easy to learn, but there are games that can be challenging and fun for any age group. You'll just need a basic set of playing cards to play Hearts, Go Fish, War, or Spoons. A card game may have several different versions of one card game with variations on the rules. This makes it easy to learn a specific card game and then try the next difficult version with a better chance of winning. Pick the version that best suits your family's age range and skill level.

Puzzles: Puzzles are an excellent way to spend family time together. Some puzzles take minutes while others may take several hours or days to put together. Challenge yourself and your older family members with puzzles ranging from 500 pieces to 5000 or with a 3D puzzle. Or spend an evening together putting together simple puzzles with younger children; they'll love learning how to work together as a team and feeling a sense of accomplishment from completing the puzzles.

Electronic games: Electronic games range from handheld devices to video games to large indoor score-keeping sports games. Go one-on-one with a member of your family or form teams for a little friendly competition. Electronic games easily keep score for you, so if you need to take a break, simply hit "pause" and come back to finish your game at a later time. If you're looking for a Christmas gift for your family, consider buying an arcade-style video game machine; this is a gift they'll love for years to come.

Table games: Foosball tables, air hockey tables, ping pong tables, and pool tables are all excellent choices for families. If you have the room and the budget, you can find full-size table games for your rec room. If you need something smaller that can store in a closet, look for tabletop versions of these popular games.

Shop Table Games
Shop Board Games
Shop All Games & Puzzles
See All Guides
Read More Toy & Hobby Guides
Learn More about Games & Puzzles