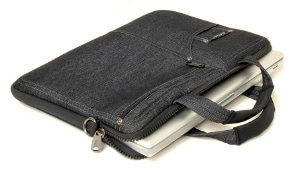 Tablets are the hottest new electronics right now. Their slim shape and portable style make them ideal for both business and play. Whether you're toting your tablet to a business meeting or bringing it to class to take notes, make sure it stays protected while you travel with a tablet case. Although you can easily slip a small tablet into a case designed for laptops, using a streamlined piece of luggage made especially for tablets will make your carry-on lighter and easier to fit into small spaces.
Best Travel Cases for Tablets:

Tablet backpacks: If you want to do a lot of walking while on your trip, plan to stow your tablet in a hard-shell backpack. Look for backpacks made with a secure pocket inside for your tablet that will protect it even when your bag is full of other items. Backpacks like this can also be used for school or outdoor sports when you are not using them while traveling.

Leather handbags: Tablets are sleek and stylish, so housing one in a handbag is a natural choice. Look for handbags made with a special compartment for your tablet that makes it easy to access and keep it from bouncing around when you're on the go. Handbags with padded pockets for small tablets can travel seamlessly from the airport to the boardroom and eliminate the need for an extra purse. For guys, a leather messenger bag with a pocket for storing your computer or tablet is just as versatile and looks good paired with a suit or a T-shirt.

Tablet sleeves: If you already have a carry-on or travel bag that you prefer using, get a padded tablet sleeve to house your electronic accessory. A sleeve allows you to slip your tablet in and out of your bag without damaging it. Some sleeves even have a detachable shoulder strap that makes toting your device easy, even when your hands are full. If your tablet seems to get lost in your luggage, pick a sleeve in a bright neon color that makes it easy to find in a hurry.

Rolling tablet bags: When you're traveling for business, you may need a lot of supplies, whether they are for a client presentation or for taking notes at a seminar. Your tablet will be one of those useful supplies, so bring it in a rolling bag with a tablet pocket. The wheels will ease the strain on your back, and you can get to your meeting with everything you need, including your handy tablet.

Buy Tablet Cases
Back to Guides Directory