by C.D. Crowder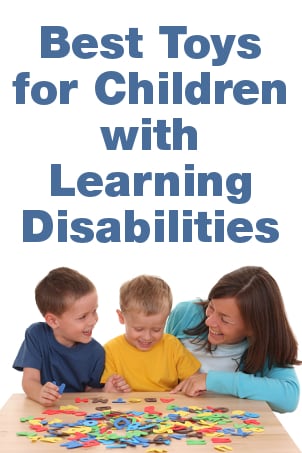 SHOP TOYS & HOBBIES NOW >>
Many educational toys and books are available to help children with learning disabilities both enjoy learning and learn better. These learning and educational toys spark a child's interest and focus on specific learning needs. Parents and educators can use these educational toys to help children better overcome their learning obstacles. No matter what learning disability children may have, toys for learning are available to help them.
Top Educational Toys:

Books: Children's activity books provide activities for all skill levels from preschool to high school. These books focus mainly on mathematics, reading, and writing. The content is presented in an easy-to-understand format. Educational books provide children with both images and words to stimulate their senses; children with learning disabilities require this combination. Activities are provided to help the child practice skills within the book. Most educational books also provide suggestions for other activities, and some feature sounds for a more interactive experience.

Electronic learning toys: Electronic learning toys feature games based on the model you choose. These games are geared to specific age groups and are based on your child's learning level. Games focus on using images, sounds, and words to make learning more fun. Children enjoy playing the games and will learn both basic and advanced skills through continued play. Educational computer games are also available specifically for certain disabilities, such as dyslexia, dyscalculia, auditory and visual processing disorders, and nonverbal learning disorders.

Board games: Most children's board and card games can be adapted for children with learning disabilities. For instance, the popular children's game Go Fish can be used to teach number recognition and even basic counting. Other games can help teach children letters and spelling or counting with paper money while playing with friends and family. Instead of focusing solely on winning the game, focus on teaching children while they play. Board and card games can help children of all ages with learning disabilities.

Other toys: Dolls can help boost a child's self-esteem, which helps them learn better. Dolls that focus on the child's disability helps the child feel like they're not so different after all. Many dolls are electronic and focus on learning games specific to the learning disability. Wooden toys, especially those with colored, detachable parts, are used to help stimulate a child's senses and teach counting and colors. These toys also help develop logical thinking skills when the child is putting the parts back together.

Shop Learning & Educational Toys
Shop Children's Books
Shop All Toys & Hobbies
See All Guides
Read More Toy & Hobby Guides
Learn More about Educational Toys