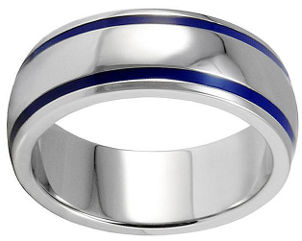 Titanium rings are durable, making them a popular choice for men's wedding bands and fine jewelry. Titanium rings are not limited to men's rings or the wedding band category, however, as they are available in such a wide range of styles. Titanium has a natural charcoal grey appearance, yet titanium jewelry can be anodized, or colored, by thermal or electric processes, and titanium rings are available in a range of colors, including the popular silver shade. Titanium rings are available in a variety of styles, including classic, simple men's titanium ring styles, interesting and textured wedding bands and unique women's rings. Titanium rings and jewelry can also support precious gemstones and inlaid metal banding. Consider our list when shopping for titanium jewelry.
Titanium Ring Styles:

Classic titanium rings: Classic titanium rings are perfect as men's wedding bands and also offer women a simple, masculine piece of jewelry. Classic titanium rings showcase neutral shades and simple styling. When shopping for men's rings, consider a classic titanium piece.

Textured titanium rings: Women's and men's titanium rings are also available in textured styles. Titanium rings can be enhanced with grooves, etching and braids to give the ring a stylishly detailed look. Titanium rings can also be laser engraved, allowing men and women to design their own titanium jewelry.

Colored titanium rings: Titanium rings can be anodized, which changes the color of the metal. Blue, green and black titanium rings are popular, and pink, green, orange, purple, yellow and brown titanium rings are also available. Some titanium rings incorporate multiple colors; many rings consist of the natural silver hue and an accent shade.

Gemstone titanium rings: Titanium rings are often embellished with diamonds and other gemstones. Stones can be added to titanium rings in a variety of ways. Suspension and tension stone settings are popular for their unique appearance, while inlaid stone settings are more traditional. Look for titanium rings with diamonds, sapphires, rubies and cubic zirconias.

Two-toned titanium rings: Two-toned titanium rings offer a seamless combination of different types of metal. Gold, silver and other precious metals can be used to decorate titanium rings for a look that is luxurious and textured. Two-toned titanium rings are also more affordable than rings made entirely of gold or platinum, offering the look and luxury to those on a budget.

Unique titanium rings: Women's jewelry and men's jewelry become more expressive every day. Titanium rings with unusual detailing and designs allow consumers the option of updating their daily style. Choose from titanium rings with leather accents, unconventional etchings and unusual widths and sizes.

Buy Titanium Rings
Back to Guides Directory