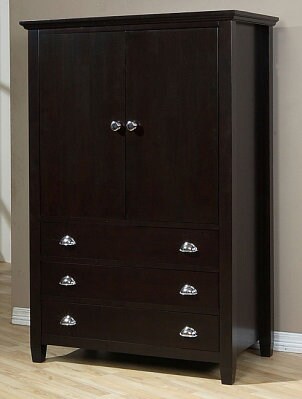 For hundreds of years, armoires have been a stylish way to store just about anything. Nowadays, there are armoires for pretty much anything you can think of. Whether you need a jewelry armoire, computer armoire, TV armoire or some bedroom armoires, there is an armoire for every room in your home. If you like the look of armoires but aren't sure how to make them a functional part of your home, you won't have to look far. Still, here are some great ideas on how to make armoires an indispensible piece of furniture in your home.
What to Store in Armoires:

Towels and linens: Bedroom armoires don't have to stay hidden away in the bedroom because armoires are the perfect place to organize extra linens and towels. If you always have towels overflowing from your closets or bathroom cupboards, place an armoire across the hall to store the extras. Use the armoire's closet space to stack folded towels. You can use the drawers of the armoire to store smaller washcloths or more towels if you so choose. Similarly, you can place armoire furniture in a guest room to store extra sheets and comforters when guests come to call.

Items on display: No matter what you choose to put in armoires, they are great places to display treasured items. Put some family photos or original artwork on your TV armoire for everyone to see or keep valued family heirlooms on display on top of jewelry armoires. Whatever you choose will spice up your armoire and enhance the natural beauty native to armoire furniture.

Extra clothes: When armoires first came on the scene, having closets built into the wall wasn't standard in homes. Nowadays, chances are you already have a closet to keep a good deal of clothing. Still, if you ever feel like your clothes have overrun your closet space, a wardrobe armoire is a charming way to store the overflow. Why not use an armoire to store just your finest clothing? Not only will it free up space and make it easier to organize your clothing; an armoire will bring a powerful sense of style to your bedroom.

Buy Armoires
Back to Guides Directory