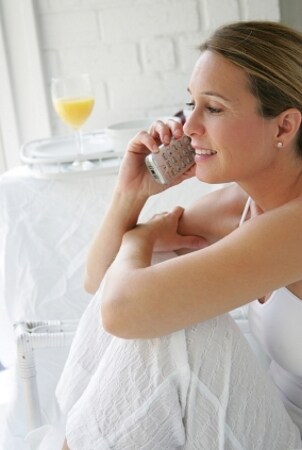 You'll encounter multiple options and features when searching for a new telephone. Each phone has its own features, specialized for home or office use. Below are some features that you may want to make sure are included on your home phone or business telephone system.
Best Telephone Features:

Volume control: The volume of callers varies depending on the connection and the other person's phone, so it can be useful to have volume control to turn them up or down. Look for phones with volume control buttons, preferably on the handset. For a business phone with a headset, it helps to have volume controls on the actual headset.

Headset jack: Sometimes you need to multitask. A headset for your business phone allows your hands to be free for writing and other tasks while you talk. Even if you're using a cordless phone, a headset jack will let you clip the handset to your belt while you move.

Intercom: Most multi-line corded telephones and many cordless phones feature intercoms. This allows you to speak from one handset to another without using an external phone line. This feature is especially useful for business phones or between different rooms in the house.

Speed dial: If you like the ease of speed dial, look for a telephone with lots of programmable speed dial buttons. A telephone with a display screen can even allow you to navigate a digital directory and select individual contacts. Most telephone descriptions will list the number of contacts you can store.

LCD display screen: Many of the latest telephones have display screens for caller ID, contact lists and other useful information. You'll appreciate a backlit screen when those late-night phone calls come. Some phones even have multiple backlight colors to choose from.

Voicemail and messaging: Many phones feature digital answering machines. On a cordless phone, the answering machine is usually part of the base. Even if your telephone service provider doesn't provide voice messaging, your phone will allow callers to leave you a message. The more memory your telephone has, the more messages it will be capable of storing.

Speaker phone: Some cordless phones have a speaker phone on the base or on the handset. Many times, the telephone base won't have dialing capabilities, so in those instances the speaker phone can only be used to answer incoming calls. Look for digitally enhanced speaker phones as they will provide you with a better sound with less feedback.

Flash: A flash button lets you get a new dial tone after a call ends, and it lets you switch between a current call and waiting call on your telephone without hanging up.

Programmable ringers: Many phones, both cordless and corded, offer you the option of changing your ring. The best telephones will let you adjust the ringer volume as well as the tone.

Buy Telephones
Back to Guides Directory