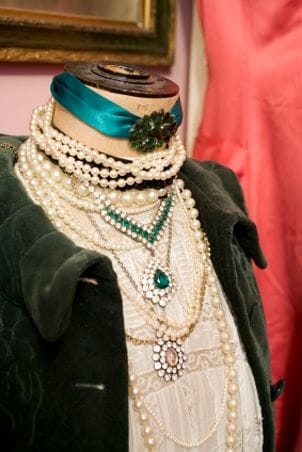 Do you have teardrop crystal jewelry in your collection? Retro style is in, and selecting the right jewelry is one of the best ways to create a vintage look. Teardrop gemstone jewelry offers a decidedly antique vibe. You can find new pieces of teardrop jewelry in fashion and designer jewelry series, or you can shop estate jewelry collections to find crystal jewelry with authentic retro style.
Retro Teardrop Crystal Jewelry:

Oversized pendants: Large pendants have been trendy in many decades. Oversized gemstone pendants allowed women to show off their wealth and place their money in something tangible. Today, costume jewelry and designer jewelry collections allow you to craft a cool look for less. When you shop for teardrop jewelry, don't overlook the most streamlined designs. A large teardrop crystal on a long, substantial chain will add a lot of style to jeans, dresses and suits.

Drop earrings: Drop earrings are very popular in estate jewelry collections. Among the most desirable pieces are teardrop crystal earrings with colorful, light-reflecting gems. Look for this crystal jewelry when looking through fashion jewelry and costume jewelry collections. Teardrop crystal earrings will swing and sparkle with every movement of your head. Some crystal drop earrings feature simple designs, while others have a range of stunning embellishments. Look for teardrop crystal earrings with diamond accents and detailed settings. Wear retro jewelry with skinny cropped trousers and a belted, oversized oxford shirt, or use it to accessorize your collection of floral-print dresses.

Charm-style bracelets: Charm bracelets have seduced stylish women for decades. Though gold and silver novelty charms have become a modern favorite, teardrop crystal charm bracelets are much more retro. These bracelets feature large gems on a link chain. Many teardrop crystal charm bracelets have colorful gemstones for dramatic look. Wear teardrop crystal charm bracelets with long dresses or mod frocks. Layer crystal charm bracelets with delicate link bracelets, bold silver cuffs and leather braided pieces to give your look texture and depth.

Buy Gemstone Jewelry
Back to Guides Directory