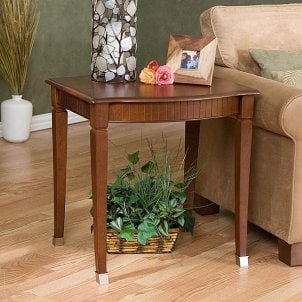 Taking the time to decide on the right kind of tables for your living room is time well spent. The right kinds of living room tables will enhance the appearance of your home, while the wrong kinds will detract from its decor. Trendy and stylish end tables create visual interest in your living room. Their versatile nature means that you can leave them bare or add charming accent pieces. Choosing the right coffee, sofa and end tables for your living room is a very important choice. Keep reading for more information on the best tables for your living room.
Living Room Tables:

Coffee tables. These high-end, fashionable furniture pieces come in a variety of materials, such as leather, wood and glass, and the short-legged tables can be elegant or quaint. They are perfect for displaying photo albums filled with pictures of friends, family and amazing trips. Most coffee tables thrive at the center of attention, so place your new table in the middle of your living room. If that's not an option, the perfect place for a coffee table is often in front of a sofa. Just make sure you leave yourself enough leg room to properly enjoy your new coffee table.

Sofa tables. This kind of living room furniture is usually tall and narrow with straight edges. They are traditionally placed behind your sofa and decorated with accent pieces, books, magazines and a lamp. These types of tables come in a variety of styles and material as well. Try an elegant sofa table made of wrought iron, wood and glass or pick one made of heavy-duty plastic for your modern living room.

End tables. End tables are an extension of sofa tables. These pieces of furniture can be straight edged or circular and are placed by the arms of a sofa. You can invest in one or get a matching pair for balance. These tables can hold accent pieces or function as accent pieces themselves. Placing lamps on your end tables gives you quick and easy access to light when you're sitting on your sofa.

Drop-leaf table. Investing in a drop-leaf table essentially gives you a two-for-one deal. Some drop-leaf tables are round but have straight edges when you drop the leaves. If you need more table space, you don't have to worry about bringing in another table; all you have to do is lift the edges of your drop-leaf table, and you have more space. They also add a nice variety to your home. Try folding down just one leaf and then set the table against the wall.

Storage tables. This type of living room table can be your secret weapon. Use it to store seasonal decorations, like pillows, or just keep some extra blankets in it for movie nights. In addition, it can be an emergency stash. When guests are on their way, just put all your extra stuff in it. When they arrive, your living room will be nice and clean, and they'll never know how easy it was to clean. Invest in a storage table made of leather or wood for a classy addition to your living room furniture.

Buy Coffee, Sofa and End Tables
Back to Guides Directory