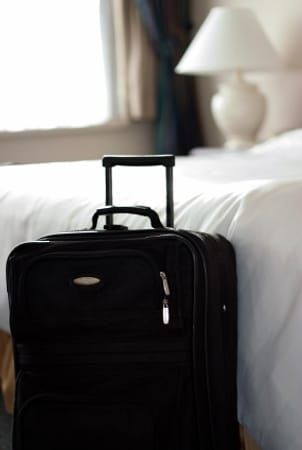 With so many choices out there, choosing the right suitcase can be a tall order. It's not as simple as finding luggage that will hold a week's worth of clothing anymore. Today's suitcases come with a wide variety of features that affect the transportation, packing, and protection of your belongings, but many of these features require you to mix and match until you find the perfect bag. Keep reading to discover the best suitcase features so you can find the best suitcase for you.
Suitcase Essentials:

Wheels and telescoping handles: Most people agree that the best suitcase has wheels and a telescoping handle so they can roll it behind them. A rolling suitcase is much easier to move, even when packed to the seams, and much easier on your body than other baggage because you push or pull the weight instead of carrying it. Choose between rolling suitcases with inline skate wheels or spinner wheels and make sure the handle construction is sturdy and easily retractable.

Top and side handles: Whether your suitcase rolls or not, having two handles to carry it with makes your life easier. You can use one or the other to carry a small suitcase in one hand or use both handles to lift a large or heavy suitcase up the stairs or into the car. The handles on all your luggage should be strong and durable, but be careful about jerking your bag up stairs or over curbs, as this can damage or weaken the top and side handles.

Lightweight structure: Lightweight suitcases are essential for long trips and have become all the rage since the release of more stringent airline weight limits. Fabric luggage tends to weigh less than hard-side suitcases, but you can find either with very low weight measurements when empty. To earn the name, lightweight suitcases must weigh less than 10 pounds when empty.

Expandability: Being able to fit all your things into one suitcase is always a nice feature, especially when you bring home more things than you left with. However, expandability can tempt you to pack so much that your carry-on suitcase no longer fits in the overhead bin or doesn't meet weight limits, so be wary of this feature.

Tie-down straps: Tie-down straps in your suitcase can help you pack lighter and tighter. These handy straps, which can be stretchy or adjustable, keep your clothes and other items in your suitcase settled and secure. They can also help you fit in a few more things than you would have been able to pack otherwise, since they are meant to be tight.

Pockets and compartments: It's hard to find baggage with more pockets and compartments than carry-on suitcases. Designed to organize all your gear, internal and external pockets and compartments can keep things clean, safe and easy to find. For example, you might put your plastic bag of three-ounce liquids in one of the outside pockets for easy access or you might choose a suitcase with a shoe compartment to keep potentially dirty soles away from suits, dresses and other clothing.

Padded panels and locks: To keep your belongings safe, look for suitcases with padding, lining and locks. Hard-side suitcases should be fully lined inside, and padded panels increase the protection offered by their hard shells. Fabric suitcases should also be fully lined. Keep in mind that removable liners make for easy cleaning. All suitcases, especially checked baggage, should have TSA locks, which can either come with the suitcase or be purchased separately. These locks can be opened and re-locked by airport security officials if they need to manually check your bag.
What Do You Want to Do Next?

Shop for Luggage Sets
Shop for Wheeled Suitcases
See All Luggage & Bags
See All Guides
Read More Luggage Guides
Get More Luggage Tips