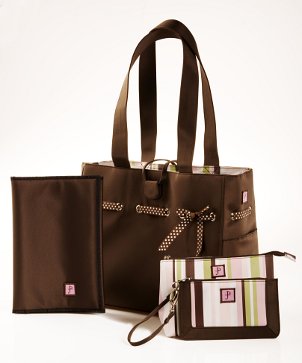 Every parent knows that having an infant means toting around a lot of baby gear. Carrying everything you need for a day (or night, you lucky thing) out with your baby doesn't mean you have to give up looking good; stylish diaper bags are available, and they mean you can look great and still be prepared for whatever blowouts come your way. Before you purchase a diaper bag, consider where you'll be using it and how long you'll be away from home. You can choose the best diaper bag for any situation. With all the choices in stylish diaper bags, you just might need two.
Types of Stylish Diaper Bags:

Daddy diaper bags: Daddy diaper bags are relatively new to the scene. Dads are getting more and more involved in caring for their babies, and styles are changing to include men in the baby-care equation. There's a new trend for men called wearable diaper bags. The wearable diaper bag is available in two forms: a vest or a backpack. The vest version is just like any vest, but it features extra pockets and compartments for easy access to things like wipes and bottles. The other option is a backpack; a backpack diaper bag must be removed to access the pockets but generally has a greater capacity than a vest.

Messenger-style diaper bags: Messenger-style bags are a great choice because the main compartment can hold necessities as well as on-the-go toys. The flap-over top of messenger bags provides privacy but might hinder your access to wipes if you're holding a messy baby and fumbling for a diaper. Make sure the strap is wide enough to spread out the weight you're carrying instead of digging into your shoulder.

Tote-style diaper bags: Styled like a handbag with a zip-top closure, this diaper bag prevents spillage when the bag tips over (if you remember to zip it!). Zip-top bags tend to be a little smaller than other styles and are best suited to short day trips when just a change of clothes and a snack is required. These bags are often stylish enough to carry to the office. While it can be tempting to choose the largest diaper bag available, remember that the bigger bag, the more you'll end up carrying; don't put unnecessary strain on your shoulders and back.

Fabric diaper bags: Diaper bag choices are no longer limited to pastels. Bags are crafted of beautiful fabrics and in elegant prints. There's nothing wrong with a brocade diaper bag; just make sure it has a clear plastic coating for protection or is made of a fabric that can be easily spot-cleaned.

PVC diaper bags: No longer cheap and flimsy, PVC diaper bags are now a practical, stylish choice. They have the advantage of being easy to clean and come in a wide range of fun patterns.

Buy Diaper Bags
Back to Guides Directory