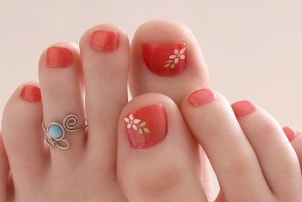 When it gets warmer outside or when you have a special date, it can be a lot of fun to wear a shiny toe ring with a pair of pretty sandals. Some toe rings can be worn all summer with every pair of jeans and each summer dress you own, while other rings are best saved for special occasions. A collection of body jewelry in a variety of styles will take you through spring, summer and fall in fashion. Toe rings don't require painful piercing or special care, but they still let your wild side shine. Consider these styles when shopping for this fun type of body jewelry.
Toe Rings with Style:

Tropical theme: When the very hint of green grass starts to peek out from under white snow, your mind probably wanders to sandy beaches and deep blue waters. If you can't keep from fantasizing about island vacations all year long, consider celebrating warmer weather with tropical jewelry. Toe rings with designs of starfish, palm trees, hermit crabs and seashells on them are perfect for summer parties.

Gold and platinum: Jewelry can be made of many materials, but some metals will last a lot longer than others. When choosing toe rings that are meant to last for more than one season, consider gold and platinum toe rings. Gold and platinum rings are durable and won't tarnish or rust when you walk through a summer rain puddle. Sterling silver is also a good toe ring metal.

Messages: Jewelry is perfect when you want to express your beliefs, interests and dreams. Toe rings with messages around the outside will show off your personality in a fun and interesting way. Religious messages not only share your beliefs with others, but they also remind you of your ideals. Your initials also personalize a piece of jewelry.

Patterns: If you want a toe ring that is simple but like your jewelry to showcase some intricate design, consider patterned toe rings. Toe rings with geometric details or tribal designs are eye-catching without being too loud. These toe rings are far from plain, yet they will match your favorite sandals and other jewelry.

Buy Toe Rings
Back to Guides Directory