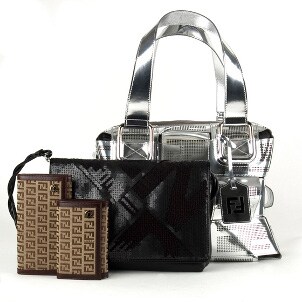 A designer handbag is an investment that can make any outfit look more dressy and polished, and Fendi handbags will add sophistication to everything you wear. Buy Fendi designer handbags that fit your style and allow you to carry your wallet, makeup, camera and other essentials. With a Fendi tote, hobo or other handbag, you'll stand out in a crowd. Read on to find the best styles of Fendi designer handbags for your personal tastes.
Which Fendi Bag is Right for You?

Buy a tote for plenty of room. Fendi totes give you the space you need for all of the things you carry with you. A leather tote makes a perfect bag for travel, as its roomy interior can hold snacks, water, crossword puzzles and novels. For a twist on a traditional lambskin or vinyl tote, look for color-blocked Fendi handbags you can use as an everyday handbag or as a bag large enough to carry your laptop and files to work. A Fendi bag with large handles you can sling over your arm or shoulder is easiest to carry.

Find a baguette for a compact purse. A Fendi baguette is a small, boxy handbag that's perfect for carrying just a few items, such as a wallet and a tube of lip gloss. A Fendi baguette is appealing and versatile because it is small enough to serve as a clutch but still has a thin strap that allows you to carry the bag in the crook of your arm. Buy a Fendi bag you can take both to casual events and more formal occasions, such as fancy dinners or business functions.

Pick a hobo bag for comfort and versatility. For a medium-sized handbag, purchase a Fendi hobo in a color and fabric that goes well with your wardrobe. Brown and black leather hobos look classic with any outfit, but red, russet and lilac colors are also attractive. Buy a Fendi hobo with other embellishments, including silver hardware, metallic details and durable fabric for a handbag that will last.
Fendi Handbag Tip:

If you love logos, look for Fendi handbags with the double-F symbol. The large symbol is called Zucca print and the small symbol is called Zucchino print.

Buy Fendi Handbags
Back to Guides Directory