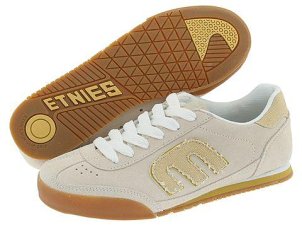 Etnies is a shoe and apparel brand that designs gear for skateboarders and other athletes. It has become more than a skateboarding brand, however; men's Etnies shoes and women's Etnies shoes add a sporty edge to everyday outfits. Consider playful Etnies shoes with feminine touches for women and functional, athletic styles for men. Read on to find the best Etnies shoes for you.
Men's Etnies:

Buy a pair of versatile skate shoes. Whether you need something for wearing around town or a shoe designed for skateboarding, a sleek black Etnies shoe will do the trick. The men's Callicut features a soft leather upper with the distinctive Etnies logo on the side. Pair them with a pair of rugged jeans or cargo shorts for a trendy, casual look. The Callicut's rubber outsole makes it perfect for outdoor activities like skateboarding.

Look for sporty shoes to take you places. If you plan to walk around the big city or get dinner with friends, you'll need a pair of comfortable shoes. Try the Etnies Arto or the black Etnies Cinch for a versatile shoe with an athletic silhouette.
Women's Etnies:

Look for a comfortable ballet flat. During the spring and summer, you want a casual slip-on that's easy to wear with shorts, jeans and sundresses -- and a pair of Etnies flats will look great with almost any summer outfit. Sporty and chic, they are available in different patterns and colors to match your wardrobe. Try wearing Etnies shoes with a pair of bermuda shorts and a light T-shirt or with a jean jacket and bright sundress. The Zoe and Myra styles are among the most popular, and these versatile shoes will take you where you want to go in the summer months.

Find a skate shoe that fits your style. Etnies is well-known for skate shoes, so why not find a comfortable sneaker you can wear everywhere? One of the most popular styles, the Callicut, features patterned cutouts of the Etnies logo and the heel. Perfect for women who don't want to give up style for comfort, the Callicut allows you to customize the colors for a look that's unique. The skate shoes have a foot bed with a removable arch support that ensures all-day comfort. Wear the Callicut with shorts and jeans for a casual look.

Buy Men's Etnies Shoes
Buy Women's Etnies Shoes
Back to Guides Directory