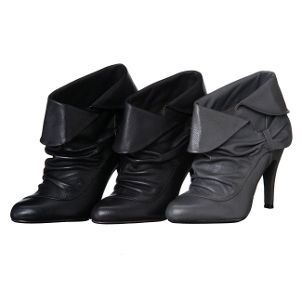 Ankle boots, or booties, are a versatile fashion option. They can be worn with a variety of outfits for many different occasions, from a lavish dinner at a four-star restaurant to a company party. Pick out evening-appropriate women's ankle boots that add flair and class to your outfit by following a few simple guidelines.

Try embellished booties for a trendy look. Women's booties embellished with chains, big buckles, laces and buttons can work great when paired with a short skirt. The exact embellishment you choose is up to you, but no matter what, these extras will lend an edgy touch to your evening outfit. Match the color of your embellishments with the tone of your jewelry for a truly polished, put-together look. Pair women's ankle boots with tights or wear them bare-legged, depending on the formality of the occasion. While black booties tend to go with anything, you can experiment with different colors of embellished booties to give your look a boost. Booties that are a little slouchy also look great with jeans or a skirt.

Leather booties look great for every occasion. Leather booties work well for a classic, chic and monochromatic look. Booties without adornments, such as buckles, bows or chains, can be patent leather (for a dressy look), suede or faux leather. Leather booties can be matte or shiny and often come in lace-up styles as well. This works best when you want your style to be understated but still want to add sophistication to your look. Coordinate your ankle boots with your outfit or pick another color to make your clothes pop. Wear them with a knee-length skirt or paired with a pair of dark jeans. You can also wear them with a tunic and thick leggings for a warmer, comfortable look.

Open-toe booties are stylish and fashion-forward. If you really want to try something different, give open-toed booties a try. These will lend the most edge to your look. Pair these with a short skirt in order to make them pop. If it's cold outside, you might want to wear these open-toed booties with a pair of matching tights to stay warm. These ankle boots work well for going out to a club or rock concert, but they can also complement a party dress or a pair of jeans for a dressier event.

View All Ankle Boots
Back to Guides Directory